JSU Honors Students Enjoy the Magic of Honors in Orlando
05/20/2016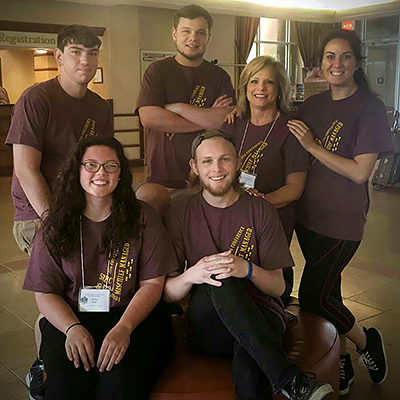 JSU's Honors Program represented the university at the Southern Regional Honors Conference in Orlando March 30-April 2. (courtesy)
JSU's Honors Program was well represented at the Southern Regional Honors Conference in Orlando, Fla. March 30 – April 2. The theme of the conference was "The Magic of Honors." After being nominated by their Honors professors, five students were selected to present at the conference based on their abstracts. They were among more than 600 Honors students that were in attendance. Those students are John Mackey, Megan Wise, Philip Tice, Ashlyn Jones, and Jonathan Hollingsworth. 
John Mackey presented his paper, "Honor and Conformity Versus Time", which he wrote for his Contemporary Fiction Class with Dr. Steven Whitton. The works he analyzed within the paper were "The Sailor Who Fell From Grace with the Sea"" authored by Yukio Mishima and "Reeling for the Empire" by Karen Russell. John received many questions and there was great interest in his presentation. 
Megan Wise's presentation was titled "Pandora and the Jar of Evils: Beginning of the End." She spoke in detail with great knowledge relating to the question of why Pandora chooses as she does and why hope was left remaining in such a wicked jar based on the mood of the Pandora section from Works and Days. She displayed a vase she created for the project during her presentation and brought her studies to life. Dr. Steven Whitton also nominated Megan. 
Philip Tice brought life to his presentation on "Block Party Gone Wild," which was a service learning component in Dr. Teresa Reed's Freshman Honors English class. The purpose of the project was to relieve some of the depression faced by lower-income families in government housing. The block party service project was a huge success. 
Ashlyn Jones and Jonathan Hollingsworth did a joint presentation on a service project titled "Raising Illiteracy Awareness: The Get Booky Service Project," which was also a part of Dr. Reed's class. In their presentation, the students talked about the skills they learned including group communication, team building, punctuality, and leadership. During this project they collected and donated over 1,500 books, were able to help some local schools and organizations and bring smiles to children's faces. 
The students were chaperoned by Ms. Janet Whitmore, the Program Coordinator for the Honors Program. This was the first time students have presented at the annual SRHC Conference and it is hoped that this will be an ongoing annual event.