Have an EPIC Summer!
05/25/2016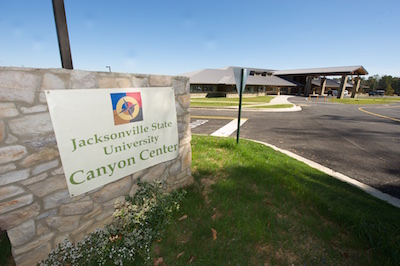 Looking for some great outdoor activities to do with the kids this summer while they are out of school? Or would you, perhaps, like to learn a new hobby, such as pottery making or preparing herbal remedies? Then get ready to have an EPIC summer with JSU! 
The JSU Environmental Policy and Information Center (EPIC) leads environmental, cultural and heritage-based protection programs that foster both economic development and growth. The center's work has led to the federal designations of places like the Little River Canyon National Preserve, the Dugger Mountain Wilderness and the Mountain Longleaf National Wildlife Refuge.  
Through the JSU Field Schools, EPIC provides nature-based educational programs for all ages. Make a trip to the Canyon Center in Fort Payne or the Mountain Center in Heflin this summer to see why our state is called "Alabama the Beautiful" – and be sure to mark your calendar for the EPIC summer events listed below. For more information or to register for any of these events, please contact EPIC at 256-782-5681.  
Essentials of River Safety: Terrapin Creek  
June 18, 8 a.m. to 4 p.m., Terrapin Creek Outdoor Center 
Experienced canoeist Mary East will lead this adventure, organized by the JSU Field Schools, Terrapin Creek Outdoor Center and Anniston Outdoor Association.  
The cost is $50 per participant. 
Canyon Center Creative Kids Days: Adventures in Nature   
June 8, June 22 and July 13, 10 a.m. to 12 p.m., Little River Canyon Center 
Bring the kids (ages 5-10) to the Canyon Center for hands-on outdoor adventures as follows: June 8, "Canyon Bugs & Plants"; June 22, "Canyon Culture and Heritage"; July 13, "Canyon Wildlife." The fee is $5 per child. Pre-registration is required.  
Canyon Camp for Children  
June 21-24, 8 a.m. to 4 p.m., Little River Canyon Center 
Geared for kids ages 6-9, this nature camp offers hands-on environmental education, outdoor fun, arts and exploration led by experienced educator Mary East. Participants will learn all about Little River Canyon and DeSoto State Park – the river, plants and animals! The $150 registration fee includes lunch and supplies. Pre-registration is required and slots book up fast. Call today! 
Native American Pottery Workshop  
July 9, 10 a.m. to 12 p.m. or 1-3 p.m., Desoto State Park 
Join nationally renowned potter Tammy Beane to learn how pottery was made on Lookout Mountain thousands of years ago. The staff of DeSoto State Park will provide clay and bone needles and paddles so you can make designs on your pots. This workshop is very popular and always sells out. Register early to guarantee your spot. The class fee is $15 for adults and $5 for children. For registration and details, call 256-997-5025 or email Brittney.Hughes@dcnr.alabama.gov.  
Guided Archaeology Tour of Calhoun & St. Clair Counties  
August 13, 9 a.m. to 3 p.m., Departs from Jacksonville  
Come along with JSU's Dr. Harry Holstein for a guided archaeological tour of various sites throughout Calhoun and St. Clair Counties. Stops will include a visit to Janney Iron Furnace, a 19th century battlefield and river locks, a prehistoric Indian village, and much more. Participants should bring their own lunch and drinks. Transportation is provided. The tour will depart from Jacksonville (you will be notified of meeting location upon registration). The fee is $15 per person and the event is open to ages 14 and older. Space is limited. Pre-registration is required. 
Third Annual Dog Daze: A Furry Fun Festival for Dogs and Their Humans 
August 17, 11 a.m. to 2 p.m., Little River Canyon Center 
Bring your canine and human family to this hound-friendly event featuring dog games, storytelling, and special presentations on dog adoption, dog advocacy, service dogs, basic medical information and much more! The event is free and open to the pup-lic.