Text of President Beehler's Inaugural Address
04/13/2016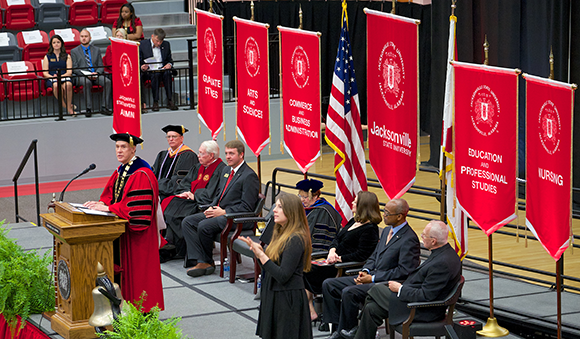 President John M. Beehler delivers his inaugural address on April 8, 2016. (Steve Latham/JSU)
President John M. Beehler's Investiture Speech
April 8, 2016
Thank you all for being here to celebrate this historic day in the life of Jacksonville State University.  It is truly a special day for JSU and for me and my family.  I am so pleased to be able to celebrate this day with our First Lady, Dr. Pamela Beehler, and my daughter, U. S. Army Captain Kristin Beehler and all the family and friends who have traveled to be here with us today.  All of my life's professional work and that of our First Lady has been dedicated to academic excellence and student success in higher education and today marks the culmination of a dream for us with my investiture as your 12th President.  It is very special for us to celebrate this historic occasion with our new Gamecock Family. 
I am truly blessed, humbled, and honored to be your 12th President.  I am proud to serve in the honorable line of all my presidential predecessors who led this institution since its inception in 1883.   As you traverse our beautiful campus, you see the names of Forney, Daugette, Cole, Stone, Montgomery, McGee, and Meehan which bless the buildings named in their honor for their leadership and contributions.  I pledge to give my heart and soul to Jacksonville State University as together we pursue our bright future and bring JSU and our region of Northeastern Alabama to even greater levels of excellence.  I will not let you down.   
There are so many people throughout my life that have taught, supported and mentored me enabling me to continually develop and improve as a person, a professional, a professor, a leader, a citizen and a man of faith.  Just like a turtle on a fence post, I could not have gotten here without the help of many people. 
First, I have to thank my parents who raised me right, teaching me that anything is possible through faith, respect for others, discipline and hard work.  They provided the guidance and inspiration necessary for me to be the first in my family to graduate from college.  It was always understood that I would earn good grades and strive for excellence in everything I undertook, whether in academics, sports, music, or my faith and that this would lead to college and success in life.  In short, they believed in and taught me the American Dream.  I will always believe in the American Dream and I always emphasize to all our students that, if I can become a university president being the first in my family to graduate from college, they also can be successful with a JSU degree, faith, respect for others, discipline and hard work.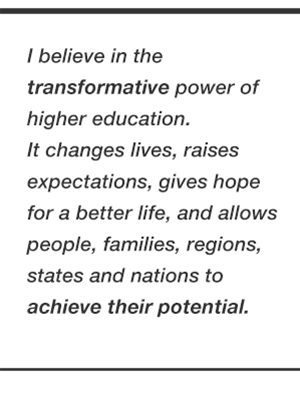 I would like to thank my mother, Mary Beehler, who is now in Heaven looking down on all of us for giving me my strong faith and a friendly and caring disposition.  She taught me so much as she went through life selfless, always caring for and helping others with a smile and a song.  Her favorite advice was "Just do your best and God will do the rest."  I would like to thank my father, John K. Beehler, for giving me my strong work ethic and self-discipline.  His favorite advice was "Do it right or don't do it at all."  I would also like to thank my wife, soul mate, and the love of my life, Dr. Pamela Beehler who traveled this journey with me giving up many professional opportunities to support me in every way.  She is my greatest asset.  Another inspiration to me has always been our daughter Kristin.  She has yet to understand all she has already accomplished in life and how extraordinary she is.  I could not be more proud of her.  
I have been very fortunate to have many excellent mentors along the way who taught me so many things.  It would be impossible for me to recognize all of them here today.  I have closely watched the many Presidents of the universities I have served, learning specific things from each.  In most cases, I learned the right way to lead and get things done.  In some cases, I learned what not to do.  As we go through life, it is important for us to learn both from others best practices as well as from their mistakes. 
From President Wendell Nedderman of the University of Texas at Arlington (known as UTA), I learned the importance of making the right decision for the university irrespective of how unpopular it may be.  You might call it "guts."  From President Bob Witt, now the Chancellor of the University of Alabama System while he was at UTA, I learned the importance of paying attention to details while being strategic and managing the university like a business.  From President Don Beggs of Wichita State, I learned the importance of having a strong vision and message and sticking to it.  From President Jim Votruba of Northern Kentucky University, I learned the importance of regional stewardship and developing an engaged campus.  From President Greg Dell'Omo of Robert Morris University, I learned the importance of student engagement in developing future leaders, professionals, and citizens. 
Other key mentors also taught me a lot.  Thanks to Dean Doyle Williams who taught me about servant leadership: "the most important thing in life is serving others and having a positive impact on the organizations and people you serve.  When all is said and done at the end of life, it is only this "impact" that really counts in evaluating your life."  Doyle has had a major impact on my life.  Also, special thanks to Dr. Peggy Swanson, a distinguished professor at UTA and a great person and mentor who passed away during the past month.  She taught me the importance of going through life with class and dealing with setbacks in a positive manner knowing that ultimate success is only delayed and will be achieved if you are resilient, always prepared, and believe.  And, last but not least, I would like to thank Ann Die Hasselmo, President Emeritus of Hendrix College and the Director of the American Academic Leadership Institute's Executive Leadership Academy, for her mentorship of our entire class especially in helping us understand the importance of "fit" in presidential searches.  This helped me greatly in knowing that there is an excellent fit between the Beehlers and JSU.  
In addition, I also would like to thank all the hard working, conscientious professionals who worked with me over the years and made me look good.  In particular, my faculty, associate deans, department chairs, associate provosts and other administrative professionals who tirelessly gave of themselves to accomplish our mission at each institution.  I truly recognize that their efforts and commitment to the universities they served led to all our successes.  I have thoroughly enjoyed leading all these professionals and striving to provide them with the guidance, resources and incentives necessary for success.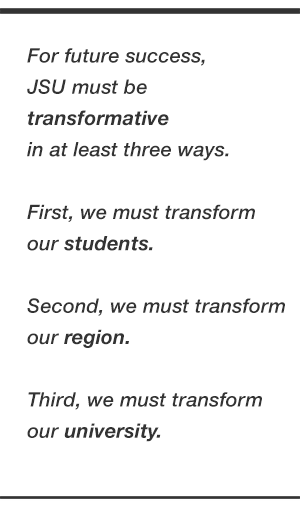 I have many people here at JSU to thank for their support to date including our faculty, staff and administrative team and our excellent Board of Trustees.  First, I would like to thank my predecessor, President Emeritus Bill Meehan and his wife Beth, for making the presidential transition go so smoothly.  In addition, I would like to thank Mr. Jim Bennett, Chairman of the Board of Trustees, for his leadership and Trustee Mr. Ronnie Smith, who chaired the Presidential Search Committee.  It was a true pleasure to interact with Ronnie, the search committee, and the search consultants from Diversified Search who attracted me to this great university during the search process.  There could not be a better fit.  Finally, I would like to thank our Presidential Inauguration Committee and its Chair, Provost Becky Turner, for the splendid job they did in planning the entire inauguration week and this investiture ceremony. 
During my first nine months at JSU, I have learned a lot about the university's culture, traditions, history, distinctive competencies, opportunities and challenges.  I have also learned a lot about the region of Northeast Alabama and its enormous potential for growth intellectually, culturally, socially and economically.  I believe in regional stewardship; that a synergistic relationship between JSU and the region we serve is absolutely necessary for the future of both.  We must all work together for our mutual benefit and develop a regional strategic plan with participation from all key stakeholders across our region.  We must plan for the future of our region together so that we can market the region to prospective citizens, visitors, companies and entrepreneurs for our future growth and prosperity.  Collectively, we will all prosper if we stand together, united. 
I believe in the transformative power of higher education.  It changes lives, raises expectations, gives hope for a better life, and allows people, families, regions, states and nations to achieve their potential.   In our democracy and free enterprise system, it is critical that we have an educated populace.  As Thomas Jefferson so eloquently stated:  "An enlightened citizenry is indispensable for the proper functioning of a republic.  Self-government is not possible unless the citizens are educated sufficiently to enable them to exercise oversight.  It is therefore imperative that the nation see to it that a suitable education be provided for all its citizens."  Consistent with our history as a normal school, JSU will continue to work with school systems in our region and across Alabama to improve the quality of education with an eye to expanding the population prepared for and attending college.  We will develop a strong pipeline of future students so that JSU can continue to fulfill its key role as the prime provider of higher education in Northeast Alabama.  I believe that future JSU graduates armed with the tools of entrepreneurship will provide the impetus for the future growth of our region.  We need to teach people how to start and grow businesses that will create new jobs for all.  Prosperity awaits us in Northeast Alabama if we pursue this strategy of enhanced preparation for college, excellence in higher education and entrepreneurship for all. 
Our inaugural theme is:  "Transformative, Innovative and Engaged for Success:  JSU "TIES" that bind us together."  As we move forward to our future, this theme will serve as a guidepost.  Transformative, Innovative and Engaged are the three key descriptors leading to Success.  We must be Transformative.  We must be Innovative.  We must be Engaged.  Let me address each of these in turn. 
For future success, JSU must be "transformative" in at least three ways.  First, we must transform our students.  Second, we must transform our region.  Third, we must transform our university.  As for our students, we must transform them into educated, ethical professionals and responsible global citizens.  We must take them from where they are and provide them with every opportunity to become who they can be.  We must help them to find their passion in life which will lead them to identify their major and future profession and whom they are destined to serve.  We must give them the opportunity to develop holistically in mind, body, and spirit through a wide array of classes, activities and interactions.  We are all here at JSU to facilitate this transformation and help each student reach his/her potential. 
As for the transformation of our region, we must be committed to regional stewardship; that is, regional state universities like JSU exist to serve their region.  As such, JSU must work to transform Northeast Alabama intellectually, culturally, socially and economically.  We should all be thinking about how we individually and collectively can contribute to improve our region of Northeast Alabama.  Every employee in the university can play a role in improving our region.  There are many examples how this can happen and we are already active in this endeavor.  For example, education professors can help improve the school systems, business professors can help entrepreneurs start and grow businesses, applied engineering professors can help improve manufacturing and industry, social work professors can help social service agencies improve services for citizens, nursing professors can improve healthcare, all employees can volunteer their time to worthy causes, etc.  We can all play a part in improving the region of Northeast Alabama.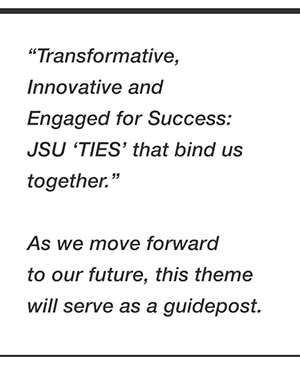 The third transformation is of the university itself. We can only transform our students and our region if we transform ourselves to focus on our key mission.  The time is right for us to begin the development of our new Strategic Plan this year with all constituents participating in the process.  We will determine our future direction and then work to accomplish our long range vision, our mission, and our key strategic initiatives.  All of us must be committed to continuous improvement and this must start at the individual employee level.  Each of us needs to set annual goals that are congruent with the goals of the university and be evaluated on the accomplishment of goals.  We will continue to be "The Friendliest Campus in the South" providing world class customer service.  We will continue to be a learning-centered university focusing on academic excellence and student success.  We will be entrepreneurial, innovative, and responsive to the needs of learners in the 21st Century.  We will develop new programs that better prepare students for future workforce needs.  All of these worthy goals will lead to the transformation of the university. 
That leads us to "innovative."  The world of higher education is changing rapidly and we face challenges never before faced in terms of funding, competition, accountability, and preparation of students for an ever changing world.  We can no longer maintain the status quo.  For future success, JSU must be an "innovative university."  As the Founding Provost at the University of North Texas at Dallas (a new start-up university), I participated in The Commission on Building the University of the 21st Century.  This Commission focused on identifying many higher education innovations and developing a new model for universities in the 21st Century.  The findings of this Commission point to many potential innovations that JSU can consider as we move forward to our future. 
With our focus on student success, we must find new ways to reach the current generation of students using technology to the fullest, developing new pedagogical and remediation approaches, constructing new flexible learning spaces, and linking coursework to real practical workplace experiences.  We must strive for higher levels of placement of students in jobs and graduate school and make sure that students possess the leadership and global skills necessary for long-term career success.  From a fiscal perspective, we must also become more efficient in our operations and find new revenue sources.  All these things will take the ingenuity of all of us.  Together, we will test our own new ideas and benchmark the best practices of other universities to determine what will work for us.  We cannot be afraid to think outside of the box and try new things.  We must be entrepreneurial and learn to think of change as an opportunity for progress and a brighter future.  I look forward to working with you all in identifying and implementing many future innovations at JSU.     
And finally, we must all be "engaged."  All of us – faculty, staff, administration, students, alumni and external constituents must be strongly engaged at JSU and committed to our mission for future success.  We must be an "engaged campus."  Research shows that a strong level of engagement is the key to success of any organization, especially universities.  From the student's perspective, strong student engagement with faculty, staff, alumni and other students leads to "Great Lives and Great Jobs" per the Gallup Purdue Survey.  That is, there is a strong correlation between student engagement at college and future job satisfaction and happy lives.  With student success at the forefront of our mission, it is extremely important that we all continue to be engaged strongly with our students and provide them with an "up-close-and-personal" experience at the "Friendliest Campus in the South."  As such, all employees need to be engaged in world class customer service and committed to continuous improvement in all we do.  This high level of engagement will lead to our future success as a university including increased enrollment, greater fiscal stability, a strong brand, and a meritocracy where rewards are distributed to employees for enhanced performance.    
In summary, I am committed to JSU being Transformative, Innovative and Engaged as together we pursue our future Success as a university committed to regional stewardship, entrepreneurship, world class customer service, academic excellence, and student success.  I ask you to join me in this great endeavor and thank you all once again for celebrating this special day of my investiture as the 12th President of JSU with me. 
As we celebrate the year 2016 as the 50th anniversary of Jacksonville State becoming a university, please remember:  "It's not all about me, it's not all about you, it's about all of us - the Jacksonville State University Gamecock Family."
Go Gamecocks! 
John M. Beehler, Ph.D., CPA
12th President of Jacksonville State University