JSU's Learning Services Recognized as NROC Ambassadors of the Year
04/25/2016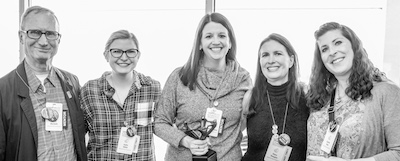 JSU's Learning Services was recently recognized as NROC Ambassadors of the Year for their unique contributions to successful outcomes in college math readiness. The NROC Project is a community-guided, non-profit organization focused on college and career readiness. Sustained by NROC member institutions, the William Flora Hewlett Foundation and the Bill and Melinda Gates Foundation, NROC is emblematic of an approach defined by four shared beliefs: Network, Resources, Open, College and Career.
Student readiness in college math is a national and state problem with only 20% of Alabama 11th graders meeting ACT Benchmarks.  
Historically, 63% of the incoming JSU freshmen require remediation at the basic or intermediate algebra level. Through a partnership with non-profit, NROC Project, JSU Learning Services and MCIS departments have developed a new approach to developmental math to help solve this problem. This approach utilizes a personalized learning system developed by NROC, EdReady. JSU uses EdReady in two ways: JSU EdReady Math Placement and Fast Forward Algebra. This integrated approach is designed to save JSU students time and money through precise placement and evidence-based teaching and blended learning.
Students take JSU EdReady Math Placement upon acceptance and receive individualized study resources that identify readiness in different topics. Once students practice all topics to mastery, they are able to avoid developmental math and are placed into college-level math. In fall 2015, students who were placed into MS 112 College Algebra using this system had a 91% pass rate vs. the 71% pass rate for students who were placed using traditional means.
Students unable to master all topics or who prefer a classroom environment take Fast Forward Algebra, which combines basic and intermediate algebra into one semester and flips the classroom using EdReady. Students watch lectures online before class so they can spend class time on practicing topics to mastery. Accelerating the time frame for remediation allows students to move into college-level math more quickly, saving them time and financial aid. In 2014-2015, students who placed into Fast Forward Algebra passed at significantly higher rates (64-77%) compared to students who took Intermediate Algebra in previous years (44-48%).
"JSU is the only post-secondary school in the country taking this approach to math readiness," explained Courtney Peppers-Owen, Director of Learning Services. "Traditionally, students study before a placement exam and are 'stuck' with a score. JSU EdReady Math Placement assesses students' skills and then provides practice to mastery. This 'assess then practice approach' is a new way to think about student learning and reduce student anxiety regarding the placement experience. The collaboration between the NROC Project, Learning Services, and MCIS, (in particular, Dr. Jan Case and Dr.
David Thornton) has put JSU at the forefront of innovative approaches to developmental math, and is an exemplary model for colleges and universities nationwide. "
JSU congratulates Learning Services for this prestigious accomplishment!
Photo: JSU Learning Services at the NROC conference (Learning Services courtesy).