JSU Cheer, Cocky to Showcase Routines April 5 Before Heading to Nationals
04/03/2016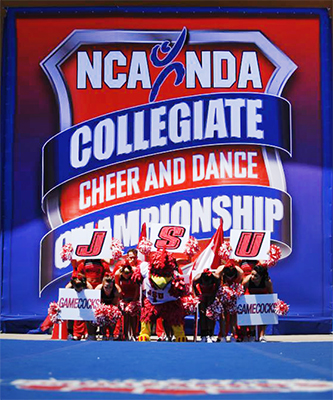 The Jacksonville State University Cheerleaders and Cocky will travel to the NCA Collegiate Nationals in Daytona Beach on April 6. The cheerleaders and Cocky received a gold bid to the competition for being "Camp Champs" in Myrtle Beach, S.C. in Summer 2015.
The squad has spent countless hours working to bring home a college championship. Before they head south, they would like to show fans the routines they will perform at Nationals. Come and get a sneak peek at the Nationals Showcase on Tuesday, April 5, at 7 p.m. in Kennamer Hall. The cheerleaders will perform the routine twice and Cocky will also perform his skit. This event is free and open to the public!
Competition begins in Daytona Beach on Thursday, April 7. To track their progress, follow the JSU Cheerleaders and Cocky on Facebook. Best of luck, JSU Cheerleading and Cocky!