Nursing Opens State-of-the-Art Simulation Lab
02/01/2016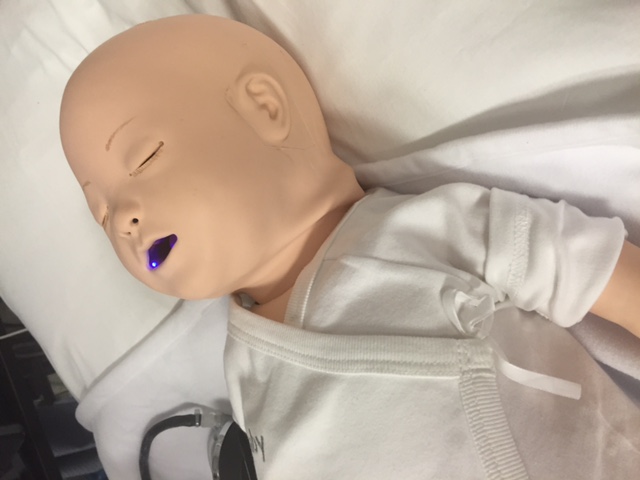 An infant simulator at the new JSU Simulation Center.
From a man with second and third degree burns to a pregnant woman in the final stages of labor, the beds were full of patients at the grand opening of the new JSU Simulation Center on Jan. 25. While they all had a pulse, none of the patients were alive. The lifelike human patient simulators enable the College of Nursing to provide state-of-the-art, point-of-care training to students 
Located on the second floor of Brookstone Medical Center next door to RMC Jacksonville, the 3,600-square-foot mock medical clinic is designed to give JSU nursing students the opportunity to practice procedures in a controlled environment.
Six computerized, anatomically correct Human Patient Simulators are located at the center: three adults, a child, an infant, and one maternal fetal delivery simulator. With eyes that dilate and lungs that breathe, the simulators are equipped with a number of features that enable them to simulate illness and injury and respond to care: from seizures and pneumonia to childbirth and trauma.
The $1.3 million lab – paid for by a combination of state funds, grants, private donations and a $200/semester nursing lab fee – has been a dream of the nursing faculty for years. They are excited to offer tomorrow's nurses the best training available to prepare them for their future roles as compassionate caregivers.
"It has truly been an amazing journey seeing so many people come together in support of this project," said Katie Robinson, nursing instructor and simulation lab coordinator. "I feel like a simple thank you would be an understatement as compared to the magnitude of impact this will have on student learning."