JSU Drama to Perform "Bloody Bloody Andrew Jackson"
02/05/2016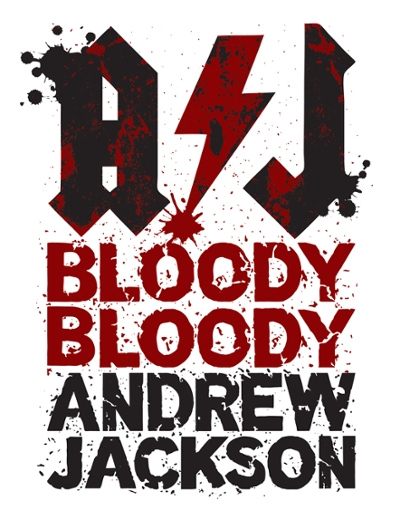 JSU's drama department redefines history with its spring musical "Bloody Bloody Andrew Jackson." The rock musical follows the life of Andrew Jackson from his childhood to his controversial presidency and stars Cody Hays as Andrew Jackson himself, Susan Grace Catrett as his wife Rachel Jackson and Ebony Antoine as the Native American chief Black Fox. With music and lyrics by Michael Friedman and script by Alex Timbers, "Bloody Bloody Andrew Jackson" mixes historical fact with outrageous fiction to create a wildly entertaining musical experience.
"I think anyone who likes a fresh look at our history and doesn't mind questioning assumptions about our politics and our society will really like the show," said drama department head Randy Blades. "The show plays with a lot of stereotypes and assumptions about America and our culture, which is a lot of fun. It is very rock based and contains a bit of profanity and sexual innuendo, but presented in a really entertaining way."
In fact, the language and innuendos may not be suitable for all audiences, and the department suggests that the musical is appropriate only for theatergoers over the age of 16.
As with all JSU productions, "Bloody Bloody Andrew Jackson" combines the talent of both students and faculty. The show features drama faculty Michael Boynton, Ellen Peck, Robert Graham and Randy Blades as the director, stage manager, lighting designer and costume designer, respectively. JSU senior Jessica Reaves serves as the scenic designer, and Patrice Anderson, a graduate student in the art department, designed the projections to be used during the show. In addition to the drama faculty, Dr. Tamara Levi, an associate professor of history at JSU, portrays the Storyteller in the production.
"Working on 'Bloody Bloody Andrew Jackson' has been an exciting challenge from day one," said Boynton. "It is an immensely complex and controversial show, so both breaking it down and building it up has pushed myself and everyone working on the show into dangerous but wonderful territory. There are many powerful themes and ideas behind this show, but also a lot of touchy topics that we have to handle with extreme care to ensure that our audience walks away with the right message. The way I see it, this show is a conversation with the community, something to get us talking about important and timely issues, and that is a conversation worth having."
The cast and crew have been preparing for this show since the fall, putting countless hours into construction, fittings and rehearsals. The design process began in October, and auditions were held in November.
"The students of JSU should come see this in droves," Blades said. "We think this is going to be a great chance for someone who thinks of theatre as something only for old people or something that is boring to truly see what can happen on our stage. It is going to look great. The costumes are modern punk, hip-hop and rock inspired with some fun period detail thrown in, and the lighting will be rock concert style."
"Bloody Bloody Andrew Jackson" will run Feb. 18, 19, 20, 25, 26 and 27 at 7 p.m. and Feb. 21 and 28 at 2 p.m. Following both Saturday shows audiences are invited to stay for a Q & A session with the director and creative staff. For more information or to buy tickets, visit www.jsu.edu/drama or call 256-782-5648.