Twitter Hashtag Showdown Intensifies Between JSU, NDSU Fans
01/05/2016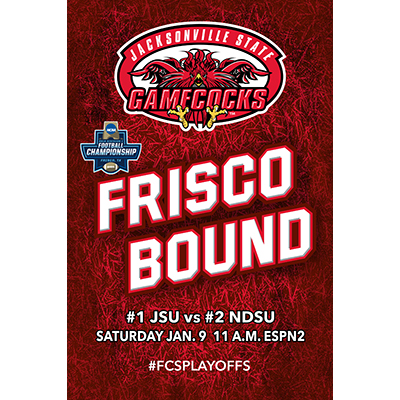 Before the Jacksonville State University Gamecocks set foot in Toyota Stadium on Jan. 9, their fanbase intends to seal bragging rights over the North Dakota State University faithful. 
Last week, Learfield Licensing announced a Twitter hashtag showdown between the schools. From now until Frisco, fans from JSU have been asked to tweet often using the hashtag #FCSCocky. Fans from NDSU were assigned the hashtag #FCSBisonPride. The fanbase with the most avid fans will be recognized during halftime at the championship game on Saturday. 
Early on, the Gamecock loyal took the lead and showed they had creativity to keep the momentum going. Fans posted everything from bison burger recipes to jokes to memes poking fun at the Thundering Herd. But as competition intensified and the Bison fans engaged, the lead has changed often. As of 10 a.m. Tuesday, Jan. 5, the Gamecock Nation was again ahead of the NDSU faithful by 1,146 votes. 
But the competition is far from over. To keep the lead comfortable and guarantee Twitter domination JSU fans are asked to head over to Twitter and join the battle. Tweet often, and don't forget to retweet others when you see the #FCSCocky hashtag!
#FCSCocky
Live Stats:
New to Twitter? Here's a tutorial on how to get started.