JSU to Open New Nursing Simulation Lab on Jan. 25
01/19/2016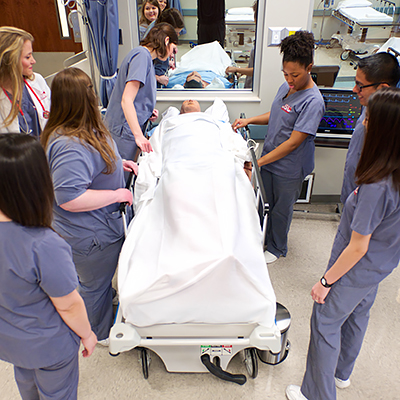 JSU nursing students get an introduction to the new Respiratory Therapy and Sim Labs located in the Brookstone Physician Building next to Jacksonville Medical Center. (Steve Latham/JSU)
The Jacksonville State University College of Nursing is pleased to announce an open house for the new Simulation Center and the Alacare Home Health and Hospice Suite on Jan. 25. 
JSU alumni, students, parents and community partners are invited to tour the simulation lab between 5-7 p.m.
Christie Shelton, dean of nursing, explained that the lab helps students learn to "critically think through situations that are time sensitive" and could have devastating consequences if poor decisions were made in a real-life scenario.
Katie Robinson, a JSU graduate and instructor in the nursing department, came on board as the simulation lab coordinator in May of 2014. She explained that the development process began in October 2014, and the first group of students entered the completed lab in January 2016.
"It has truly been an amazing journey seeing so many people come together in support of this project," stated Robinson. "I feel like a simple thank you would be an understatement as compared to the magnitude of impact this will have on student learning."
The center is located at Brookstone Physician Center, 1701B Pelham Road South, Suite F, Jacksonville, AL. For more information, please contact the College of Nursing at 256-782-5425.