Grass Named AFCA National Coach of the Year
01/13/2016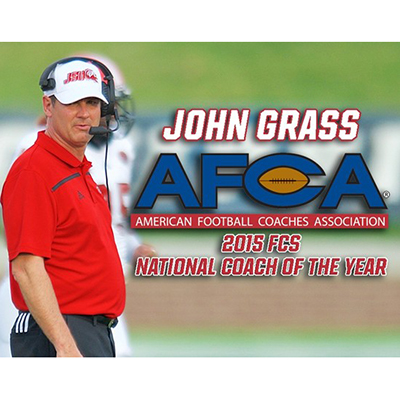 SAN ANTONIO, Texas – Jacksonville State's John Grass was honored on Tuesday at the American Football Coaches Association's annual convention as the 2015 AFCA National Coach of the Year.
 
Fresh off a 13-2 season that saw him win his second Ohio Valley Conference title in as many years and guide the Gamecocks to the FCS National Championship Game for the first time in school history, Grass became the first OVC coach to earn the honor and JSU's first National Coach of the Year since Bill Burgess in 1992.
 
Grass' Gamecocks broke more than 50 school records in 2015 en route to their second-straight unbeaten conference season. Grass became the first coach in league and FCS history to go unbeaten in conference play in his first two seasons as a head coach. He also tied for the best start to a head coaching career in FCS history through his first 26 games (23-3). He was named the OVC Roy Kidd Coach of the Year for the second-straight season in 2015.
 
Grass was one of five coaches honored at Tuesday's convention, joining Clemson's Dabo Swinney (FBS), Northwest Missouri State's Adam Dorrel (Division II), St. Thomas' (Minn.) Glenn Caruso (Division III) and Marian's Mark Henninger (NAIA) as the 2015 AFCA National Coach of the Year winners.
 
In an historic 2015 season, the Gamecocks defeated Chattanooga on the road before becoming the first FCS team in history to take a ranked FBS foe to overtime in a loss to No. 6 Auburn. JSU then rattled off 12-straight wins to claim its second-straight OVC crown, earn the No. 1 National Seed and roll into the FCS Championship Game in Frisco, Texas.
 
JSU was ranked No. 1 in the nation for the first time in school history and held that spot in at least one poll for the final 11 weeks of the regular season. They finished the season ranked No. 2, the school's highest ranking in the final polls in Division I history.
 
JSU shattered several school records, including total offense (7,613), rushing yards (4,511), passing yards (3,102), points scored (584) and tackles for a loss (135). Senior running back Troymaine Pope broke the school and OVC single-season rushing record with 1,788 yards, while his 8.2 yards per carry led the nation.
 
Junior Eli Jenkins' 3,949 yards of total offense were also a school record. Josh Barge broke the single-season record for catches with 92, receiving yards with 1,145 and touchdown catches with 11.
 
On the defensive side of the ball, sophomore Darius Jackson and senior Chris Landrum, Sr., each had 19.0 tackles for a loss to break the school record in that category.
 
The Gamecocks finished the year ranked fourth nationally in total offense, third in rushing offense and second with 362 first downs. Defensively, JSU was third nationally with 20 interceptions, while ranking 12th in total defense.