University Mourns the Passing of Professor Emeritus Lee Manners
12/02/2015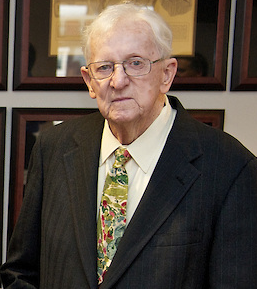 Professor Emeritus Lee Manners - who served as head of the JSU Department of Art for 31 years - died on Dec. 1. He had just turned 93 on Nov. 10.
Manners and his wife, Jetta, have been associated with the university for nearly 60 years, dating back to when the couple first moved to Jacksonville in 1956. Manners was a graduate of Phillips High School in Birmingham and served his country in the US Navy during World War II. He graduated from the University of Alabama and attended the Pennsylvania Academy of Fine Arts. Before joining the JSU faculty in August 1956, he taught art at Montevallo Elementary School, Montevallo High School and the University of Montevallo.
In 1967, Manners was initiated as the first faculty advisor to the newly established Delta Chi fraternity. He and Mrs. Manners served as chaperones at the fraternity's parties. Manners retired from the JSU in 1985. Mrs. Manners retired from the university in 1987, having spent nearly 30 years in the Registrar's Office.
In retirement, the Manners continued to champion the success of the university. They established the Lee and Jetta Manners Scholarship to benefit deserving art students and were big supporters of Gamecocks sports. In 2011, they were honored with the Jimmy Bryan Award by the JSU Athletic Hall of Fame Committee for their contributions and years of dedication to the success of JSU Athletics. On Nov. 12, 2012, Mr. Manners tossed the coin at the Gamecock football game versus Austin Peay, in honor of his 90th birthday and service as a World War II veteran.
A funeral service to celebrate his life will be held Dec. 4, 2 p.m., at the First Presbyterian Church of Jacksonville – where Manners was a member and elder. Burial will follow in Jacksonville City Cemetery. The family will receive friends at the church for one hour prior to the service.
The university extends its heartfelt condolences to the Manners family. Former colleagues and students may share memories about Mr. Manners and extend their sympathies online.