Online MBA Program Named Among Top 50 by Affordable Colleges Online
11/02/2015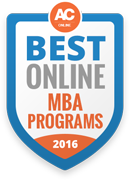 Jacksonville State University's Master of Business Administration (MBA) program has been named among the Top 50 Best Online MBA programs in the nation by Affordable Colleges Online.
According to figures from the U.S. Department of Education, the MBA has become the most popular postgraduate degree in the U.S. An estimated four out of five companies plan to hire an MBA graduate and nearly 95 percent of professionals with MBAs are employed. In fact, a Graduate Management Admission Council survey reported that MBA alumni regained about one-third of their financial investment immediately after graduation, and current MBA students report that they expect a 54 percent increase in their salary after completing their online program.
In response to this growing trend, data analysts at AffordableCollegesOnline.org have compared cost and quality metrics for hundreds of public, not-for-profit universities offering online degree programs and released their ranking of the Best Online MBA Programs for the 2015-2016 school year. The full ranking and methodology can be found here. 

"The stigma surrounding online programs is fading in the job market, and more employers are hiring candidates with online MBA degrees," said Dan Schuessler, CEO and Founder of AffordableCollegesOnline.org. "Which means these institutions are preparing the next generation to be an integral part of our workforce."
Ranked schools meet a number of criteria and metrics, including: 
Must be a public or private, not-for-profit institution
Must offer at least one fully-online bachelor's degree program
Academic and counseling services
Job placement for graduates
Affordable Colleges Online has distinguished its ranking scale by the use of Peer-Based Value, or PBV. The PBV score compares the cost of each program to the cost of similar programs with the same qualitative score.
For more information on JSU's MBA program, please click here.