Nursing Instructor Selected for Simulation Leadership Program
11/30/2015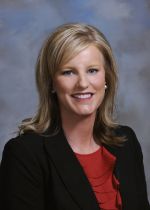 Nursing instructor Katie Robinson has been selected as one of 20 professionals from across the U.S. to participate in the National League for Nursing's Leadership Development Program for Simulation Educators. 
The year-long program will provide Robinson the opportunity to develop as a simulation nurse educator. She will examine issues related to research in simulation, curricular integration, the role of simulation in inter-professional education, and managing simulation activities within a school of nursing.
The program will kick off at the National League for Nursing's Leadership Conference at Emory University in February and Robinson will participate in additional conferences, webinars and projects throughout the year. 
"I am extremely proud that Katie has been selected for this competitive program," said Nursing Dean Christie Shelton. "She has been instrumental in the development of our new simulation lab and this will benefit us tremendously."