JSU Forensics Scholar Appearing on "Georgia Mysteries"
11/11/2015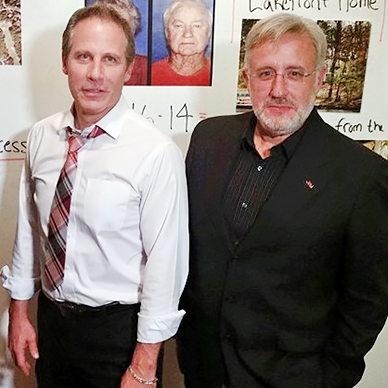 By Heather Greene
While JSU students are used to him casually walking into a classroom to lecture, you have likely seen Joseph Scott Morgan during one of his many national television appearances on Headline News, CNN, PBS or ID Discovery discussing forensic evidence from headline murder cases. This month, you can catch him on "Georgia Mysteries," a new series on Atlanta's 11Alive led by former Court TV and HLN reporter Vinnie Politan.  
After 20 years in death investigation in New Orleans and Atlanta, Morgan retired due to post-traumatic stress in 2005 and began sharing his experiences with tomorrow's crime scene investigators as a university professor. In 2014, he joined the faculty at JSU as a distinguished scholar of applied forensics. His real-world experience, combined with his ability to break complicated information down for students, has propelled Morgan in front of the camera as a leading expert in forensics.
"Joseph Scott Morgan has done the work and solved real cases in the real world," Politan said. "His expertise in forensics and death investigations is among the best in the business. I wanted him on my team of experts in order to shed new light on some of Georgia's most perplexing mysteries. He is great because he can explain the complicated world of forensics to my TV audience in a clear way that everyone can understand, just like he does in the classroom everyday."
Morgan credits Politan for giving him his first introduction to a national television audience on HLN's "After Dark." This experience catapulted him into doing increasingly more commentary on various forensic cases, bringing "a benchmark of reality to the table" amid the chaos surrounding controversial cases. In addition to "Georgia Mysteries," Morgan is currently booked once a week on the Nancy Grace show on HLN. Last winter, he filmed "Fifty Ways to Kill Your Lover," which aired on Discovery ID in England and the U.S.
At JSU, Morgan works with a team of experts in the university's Center for Applied Forensics, who he often consults when studying various cases. He emphasized that the goal of "Georgia Mysteries" is to hopefully bring closure to cold cases for the victims' families. 
"The center is more than reaching out and trying to prosecute people, it's about trying to help people," explained Morgan. "I think that goes to a bigger mission. I think that's what Jacksonville State is about. We can take the skillset that we have and try to help our neighbors in Georgia that way."
Politan said it's a "big plus" for "Georgia Mysteries" to have the support of the entire Center for Applied Forensics.
"The expertise and facilities of the center help us explain the evidence and bring insight into the mysteries," Politan said. "We do it all in hopes of stirring up new leads in cases that have gone cold. So far, there have been big developments in two mysteries we profiled this year: the disappearance of Justin Gaines and the unidentified living man Benjaman Kyle. Hopefully, with the support of the center and Joseph Scott Morgan, we can solve more mysteries in 2016."
Viewers outside of the Atlanta metro area can watch "Georgia Mysteries" on live stream at 11alive.com throughout November.
Photo: Vinnie Politan and Joseph Scott Morgan collaborating on a case (Morgan courtesy).