JSU Choral Activities Present Annual Renaissance Madrigal Dinner Dec. 4-5
11/11/2015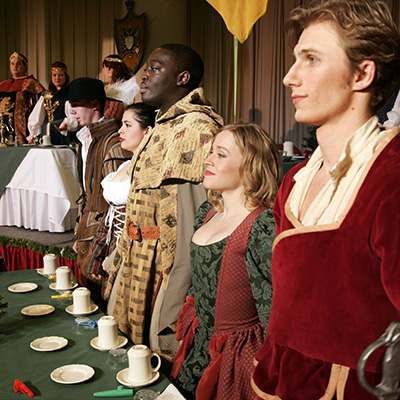 The Annual Renaissance Madrigal Dinner at JSU is a holiday tradition. (Steve Latham/JSU)
Hear ye! Hear ye! On Dec. 4-5, JSU Choral Activities will present the Annual Renaissance Madrigal Dinner in ye olde Leone Cole Auditorium. Join us for an evening of music and high (and low) drama, featuring the JSU Chamber Singers and A Cappella Choir! Members of the Oxford High School Choir, under the direction of JSU alumna, Holly Luke, will be featured guests.
The Madrigal Dinner is a dinner theatre event written and produced by JSU Choral Activities under the direction of Dr. Patricia Corbin. Both evenings will begin with Wassail followed by a multi-course feast while members of the JSU Chamber Singers and A Cappella Choir enact a farcical drama. There will be singing, good and bad jokes and high and low drama. This year's story is entitled Order in the Court!, and was written by Gavin Haynes, Jessie Hill, Jared Shiver, Megan Day and Dr. Patricia Corbin.
The deadline to make reservations for the event was Nov. 18, but never fear - if you failed to get thine you may purchase an event-only (no meal) ticket for $5 in advance through noon on Dec. 4. These tickets must be purchased in advance, cash only, and picked up at the Choral Activities office in Mason Hall room 205a. Choral Activities' office hours are irregular, so please call 256-782-5544 before making the voyage. No tickets will be sold at the door. The Royal Palace Guard will turn away those without reservations. 
Come join us for a great evening! Wassail!