Community Invited to Annual JSU in Lights on Nov. 30
11/13/2015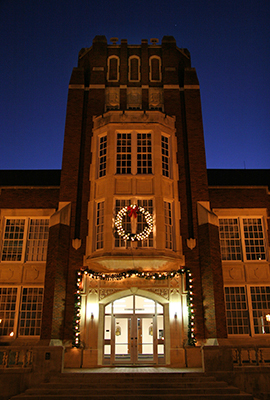 Bibb Graves Hall in holiday lights. (Angie Finley/JSU)
Ring in the holidays at Jacksonville State University!
President John Beehler, Dr. Pam Beehler and the JSU Student Government Association cordially invite the community to JSU in Lights on Monday, Nov. 30, 4-5:30 p.m. at Bibb Graves Hall. Enjoy music, fellowship and holiday snacks before we throw the switch on the campus lights at 5 p.m.
The SGA will also conduct its annual toy drive during the event. Please bring an unwrapped toy for a child in need (ages 5-10).