Alumna Goes "Wild"
11/02/2015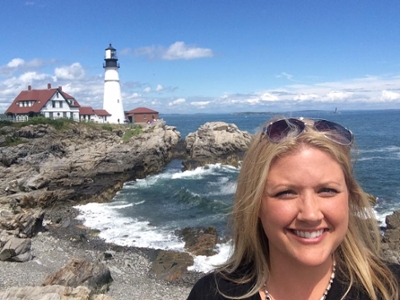 By Heather Greene 
Ashley Siskey has never been one to sit on the sidelines. At age 38, the JSU alumna has already accomplished more than many achieve in a lifetime – from organizing the Macy's Thanksgiving Day Parade to working with the Secret Service on presidential events to her current job as public information officer for the Calhoun County EMA. Yet, just 90 pages into reading "Wild" – this year's common reading selection for JSU freshmen – she was filled with "an overwhelming need to live life."
"You need a big adventure," she told herself, closing the book. "What's holding you back? Everything in your life right now can be rearranged to accommodate a big adventure."
At the time, Siskey already had a four-day trip planned to visit friends in Canada. Within two days of her 90-page revelation, that small trip had grown into a five-week, cross-country road trip to explore all the places she had never visited in the U.S. and parts of Canada, staying with friends along the way.
On August 1, she set off on an all-American road trip. Like "Wild" autobiographer Cheryl Strayed – who hiked the Pacific Crest Trail in 1995 in a journey of self-discovery – Siskey made the trip alone. Her first destination was Raleigh, North Carolina to visit friends. Over the next five weeks she spent time in New York, New Jersey, Massachusetts, Maine, New Hampshire, Vermont, Illinois, the Dakotas, Idaho, Washington, Utah, California, Colorado, Montana, and parts of Canada, where Niagara Falls was among her stops.
In Brantford, Ontario, Siskey visited Alexander Graham Bell's homestead and even happened to run into Walter Gretzky, father of the famous hockey player, Wayne Gretzky. Among other sites visited, she saw Mt. Rushmore in South Dakota and the most photographed lighthouse, the Head Light Lighthouse, in Cape Elizabeth, Maine. As would only be appropriate, she visited the Bridge of the Gods in Oregon, which was where Strayed ended her hike along the PCT.
"It's very rare that you get to bring literature to life," Siskey said. "It was a memorable stop on the trip for me, and a reminder that sometimes I just need to get off the couch and say, "why not?'"
Over her 36-day trip, Siskey visited 35 states, two countries, 65 friends, and covered 9,982 miles.
While she cannot choose a favorite stop because each visit with friends and family was unique and special, Siskey explained that when it comes to scenery, the Northeast and the Northwest were her favorite drives. She said she could spend eight or more hours a day driving without even realizing that much time had passed because she was so amazed by the scenery unfolding before her.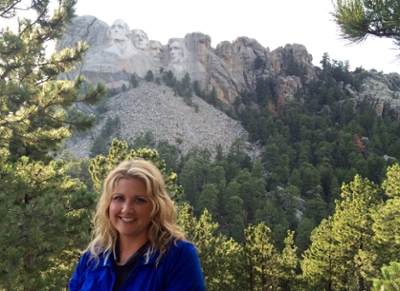 For Siskey, who was widowed at age 35, the trip was much more than a vacation. It was a time of self-reflection and soul-searching. After earning a bachelor's in communications from Bryan College in Dayton, Tenn., in 2000, she moved to New York where she worked for Macy's for three years. She moved back South and worked as an event planner in Nashville, Atlanta and Chattanooga before moving back to Alabama in 2012 to earn her master's degree in emergency management from JSU.
"I think sometimes life switches directions," Siskey said. "For me, it was the death of my husband. It changed the course of my life. I found myself back in Alabama in grad school and living with my parents. I had been such a strong, independent person before, and I really needed to find that part of myself again. In one way, it was to let myself know 'you're going to be ok.' I think whenever you go through anything that changes the course of your life, it takes a while to figure out what parts of you are the same and what has changed."
So what's next for Siskey?
"I don't know, and I'm ok with that," she said of her future plans. Currently, she intends to live day-to-day. "Be faithful in that which is set forth for you today and the rest will follow," she tells herself. "Life is today."
Ashley's Top Ten Road Trip Tips:
When it comes to packing, make your trunk your closet. Siskey filled her car's trunk with clothes and personal items and pulled out what she needed each night instead of packing cumbersome suitcases. Her friends and family were happy to let her wash clothes during her stay.
Get organized. Ashley prepared a spreadsheet listing each step of her itinerary, including who she was visiting in each town and their contact information. She shared the spreadsheet with her mother and each person she visited before the trip, so she was accounted for during her solo journey.                                                    
To save money, plan your trip around free lodging with friends and family. Pack a cooler. Siskey planned ahead so she didn't have to purchase basics like bottled water and snacks at overpriced convenience stores.                                  
Never drive in flip-flops, which will result in an "Achilles' heel" type of injury. 
Don't count calories – immerse yourself in the local eateries, and eat without shame. 
Work out. Siskey brought a PiYo DVD to do along the way, which helped her cope with the long hours of sitting while driving.                                                                    
If you are going to travel in the Northeast, apply for an E-Z pass to avoid having to stop and pay tolls at the many tollbooths along the way.                                     
When it comes to safety, go with your gut. If it feels off, keep driving. Be alert and aware of your surroundings. Siskey traveled with blow-up companion Pierre in her passenger seat so she didn't appear alone on the road. 
When choosing a pit stop location, you can't go wrong with a truck plaza like Love's or Pilot. They're well-lit, populated, and have a variety of food and beverage choices.    
Share your trip with others and inspire them to take their own journeys. Siskey chose to post once a day, which made it easier (and less annoying) for friends and family to follow her daily adventures. These daily posts also served to archive her trip with a digital diary.
Photos: Top Right - Siskey at the Head Light Lighthouse, in Cape Elizabeth, Maine (Siskey). 
            Lower Right - Siskey at Mt. Rushmore in South Dakota (Siskey).