Rotary Recognizes JSU Criminologist
10/14/2015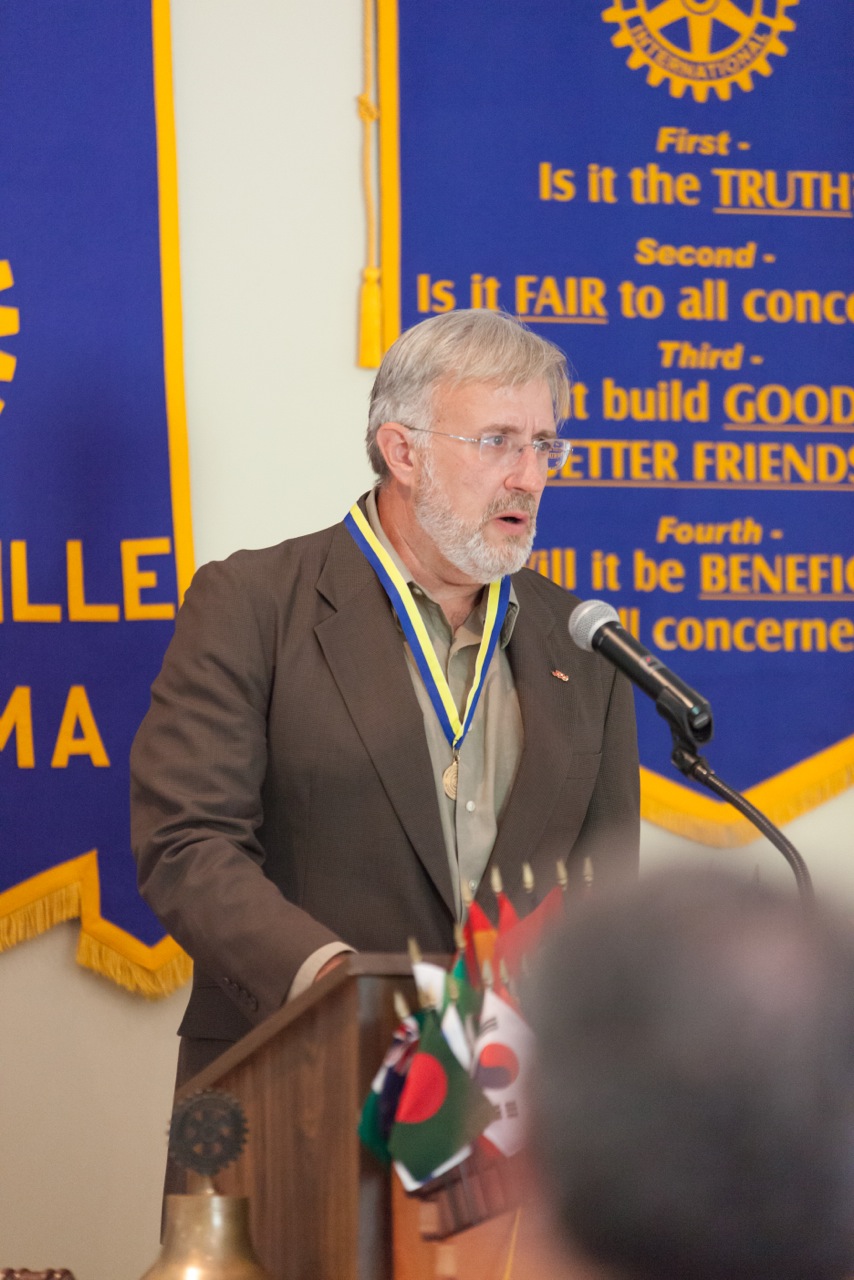 Joseph Scott Morgan speaking to the Albertville Rotary on Sept. 29. Photo courtesy of Jonathan Stinson.
The Albertville Rotary Club has awarded its highest honor – the Paul Harris Fellow medallion – to noted crime scene investigator Joseph Scott Morgan, a distinguished scholar of applied forensics at Jacksonville State University.
Named in honor of Paul P. Harris, a Chicago attorney who founded Rotary International in 1905, the Fellow program recognizes a recipient's outstanding commitment to Rotary or the community in general.
Morgan is one of the few non-Rotarians to be recognized by the Albertville club. Thomas Whitten, who serves as assistant governor coordinator for the Albertville Rotary, said the club was moved by a recent speech Morgan gave to the organization, during which he expressed how Rotary International had positively impacted his childhood.
Growing up in an abusive home in South Carolina, Morgan said one of his happier memories was getting to spend time at YMCA Camp Greenville, a 1400-acre mountain retreat featuring a manmade lake built by the local Rotary.
"When I was a young boy, Camp Greenville was the one place I got real peace," said Morgan, who recalls floating in the lake and studying the Rotary logo on a water wheel. "I had never been in a mountain lake before – it was actually called Lake Rotary. I looked forward to it every day. If it hadn't been for Rotary in the 1920s spending the money to create the lake, it wouldn't have existed."
Morgan went on to become one of the South's leading crime scene investigators, working in New Orleans and Atlanta. He is now an associate professor of applied forensics in the JSU Department of Criminal Justice and a regular commentator on Headlines News and CNN. He recently appeared on a Discovery Channel true crime series and is the author of "Blood Beneath My Feet: The Journey of a Southern Death Investigator."
The Albertville Rotary didn't realize Rotary had made an impact on Morgan's life when they asked him to serve as a guest speaker during a luncheon earlier this year. They asked him to talk to the club again on Sept. 29 for an encore presentation as a ruse so they could present him with the Paul Harris Fellow recognition. For club members, Whitten said Morgan's story gave them affirmation that all the work they do in the community does make a difference.
"We got to see how Rotary Club affects non-Rotarians," Whitten said. "It makes us creditable, as well as everlasting."