Meet Cocky's BFF
10/14/2015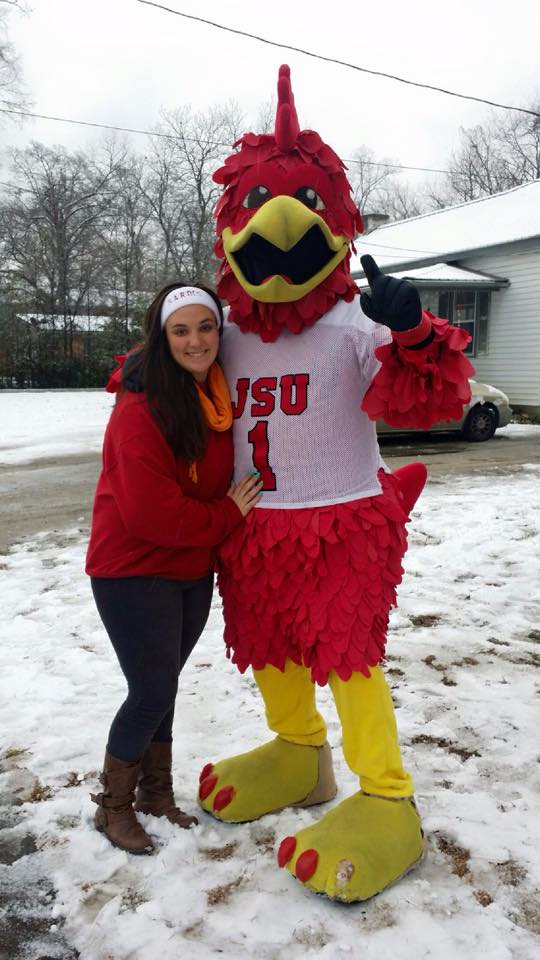 JSU senior Niki Martin plays in the snow with pal, Cocky.
Niki Martin has made a lot of friends since graduating from Sardis High School and enrolling at Jacksonville State University in 2012. Her favorite is Cocky – the university's beloved Gamecock mascot. The two have become inseparable since Martin became leader of the mascot program.
"Being best friends with Cocky is absolutely remarkable and very hard to put into words," Martin said. "Cocky is an unbelievable mascot, not just for the crazy and hilarious shenanigans he does, but the compassion and love he shows to every single person he meets. His energy is incomparable. By watching Cocky perform, it is easy to see the pride and respect he has for JSU. He will try his hardest to make everyone's day brighter no matter what. It's very heartwarming to see the happiness and enjoyment he brings to everyone."
Martin is a senior at JSU majoring in social work. While she was born in Slidell, La., her family moved around a lot due to her father's work. She has spent most of her life in Sardis, where she attended school for grades 5-12. During high school, she worked with the Lion's mascot program, which played into her college choice.
"I've had friends who graduated from JSU and they said they loved it as well," Martin said. "When I came to orientation, I loved the size of the campus and knew this is where I wanted to go to school."
Martin was with Cocky and the JSU cheerleaders in August at the National Cheerleading Association College Camp in Myrtle Beach, S.C., where the team won both the game day routine and rally day routine to receive a gold bid to the 2016 NCA College Nationals in Daytona Beach in April 2016. Cocky won Best All Around Mascot and All-American Mascot, which sealed his qualification for the 2016 NCA College Nationals as well. 
The previous year, Cocky was one of only three out of 20 mascots to receive an award at nationals, earning "Most Improved." Martin explains that since she has been at JSU, the mascot program has worked diligently to enhance Cocky's "prominence as a mascot and a representative of JSU." Both the JSU cheerleaders and Cocky are under the guidance of Coach Dave Almeida.
Reflecting upon her college experience, Martin said, "JSU has been the best experience of my life. The teachers really care about the students and have helped me be very successful in all my classes. JSU never felt like a big scary university – it quickly became a home away from home. Over the years, I have fallen in love with being a Gamecock, and I am proud to be at JSU."
Martin will accompany Cocky when he competes at the 2016 NCA Nationals in the spring. Follow Cocky's many adventures on Twitter at @Cocky_JSU or Facebook at @cockyjsu.