JSU Thinks Pink
10/02/2015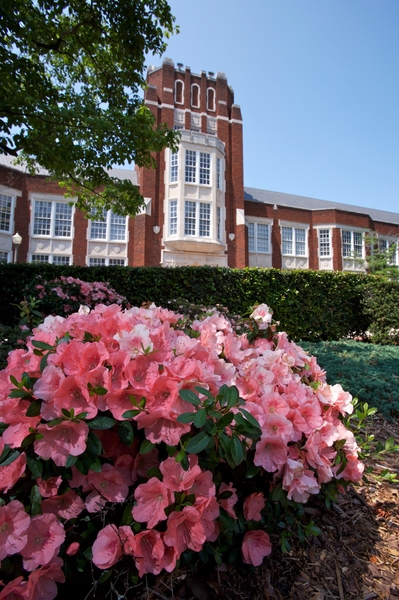 Along with the autumnal shades of red, yellow, brown and orange this October, the City of Jacksonville has also turned pink in honor of Breast Cancer Awareness Month. Campus and community organizations are working to heighten awareness and raise funds for breast cancer research.
Zeta Tau Alpha sorority has "Painted the Town Pink" by hanging up thousands of pink bows along Pelham Road near Jacksonville Square. The bows are $10 and available for purchase throughout the month of October.
On Oct. 2, ZTA will be "pinking out" the JSU vs. Jackson State volleyball game. The volleyball team is selling pink t-shirts for the cause. On Oct. 3., the ZTAs are also having their annual "Pink Out" during at the home football game. They will make a short presentation pregame, around 12:30 p.m., in honor of breast cancer survivors. They will also pass out "Think Pink" breast cancer ribbon pins. Before kickoff, they will sell pink shakers, pink breast cancer ribbon tattoos, "Think Pink" footballs, and the big pink bows. All proceeds will go to breast cancer education and awareness, and purchases made by check or credit card are tax deductible.
The "Pink Out" football game will kick off "Think Pink" week on campus. On Oct. 6 and Oct. 8, ZTA will table in the TMB and take donations. On Oct. 6, they will host the Pink-a-Palooza, 4-6 p.m., on the TMB lawn. On Oct. 7, they will partner with Momma Goldberg's in Jacksonville. Ten percent of purchases will be donated to breast cancer education and awareness for those who mention "ZTA" while ordering.
In the surrounding community, the Jacksonville Professional Fire Fighters Association is selling breast cancer awareness T-shirts for charity. "Cindy" the pink fire truck will be in Jacksonville on the public square Oct. 11, 12-4 p.m. Survivors and those who have lost someone to cancer are invited to come sign the truck in memory of their loved ones.