Boo to You from JSU
10/02/2015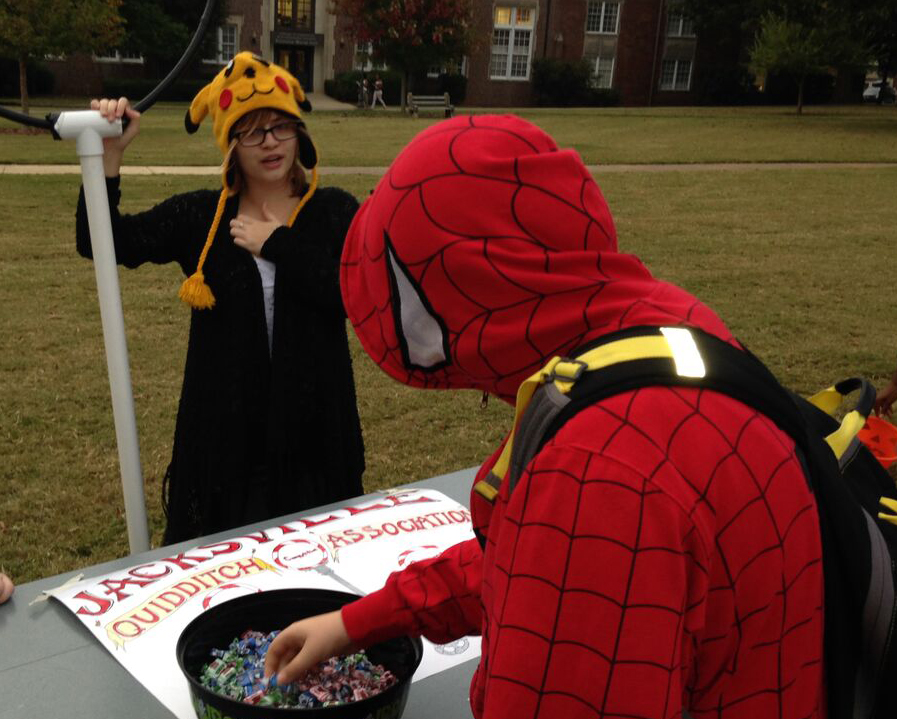 Pikachu offers Spiderman pointers in Quidditch at the 2014 SGA Harvest Festival.
By Katie Cline
Leaves are falling, the temperatures are dropping and pumpkin spice lattes are back with a vengeance. That can only mean one thing: fall has finally come to Alabama. And here at JSU, fall means Halloween, so the campus is offering a "spooktacular" number of events for the students and community that will guarantee a ghoulishly good time.
SGA Harvest Festival
Bring the whole family out to the JSU quad on Tuesday, Oct. 27, 4:30-7 p.m., for an evening of "bone-ified" fun at the SGA Harvest Fest. Campus organizations will provide free games and trick-or-treating for kids. Wear your best Halloween costume for even more fun.
Tubaween
Join JSU's Tuba and Euphonium Ensemble for a "fang-tastic" free concert on Wednesday, Oct. 28, at 7:30 p.m. in the Mason Hall Performance Center. JSU's Encore! show choir joins the ensemble again for a humorously spooky night of song and dance. In addition to the music, guests will be treated to free candy and costume contests for children and adults.
Haunted Mason
Mason Hall gets a ghostly makeover each year as part of the annual Kappa Kappa Psi fundraiser, Haunted Mason. Bring your friends (and maybe your security blanket) on Friday, Oct. 30, from 7:30 p.m. to midnight and venture through the scariest haunted house on campus. Tickets for the event are $3 in advance or $5 at the door. Advance tickets can be purchased on the porch of Mason Hall during the week leading up to the event. Proceeds benefit the music department.
Spookapalooza
Celebrate Halloween weekend surrounded by the colors of fall with JSU's Field School and Desoto State Park. Enjoy a day of Halloween fun on Oct. 31 starting at 11 a.m. with Bats Alive!, an animal program at the Little River Canyon Center featuring live bats. At 1 p.m., come back to the Canyon Center for the story of Brother Leaf and make traditional Native American masks. At 2 p.m., hop on your broomstick and fly over to DeSoto State Park – located about 10 minutes from the Canyon Center – for pumpkin decorating, Halloween bingo, bobbing for apples, inflatables, slides, rub-on tattoos and more at Spookapalooza Fun and Games. When the games finish, put on your best costume and go trick-or-treating around DeSoto State Park's improved campground, starting around 3:30 p.m. Even pets are welcome to come! The fun continues after the sun sets. If you missed mask making earlier in the day, never fear! The story of Brother Leaf will be happening again, this time at DeSoto State Park Campfire Ring from 5-6 p.m. Then, from 6-7 p.m., enjoy spine-tingling ghost stories told by JSU Field School's Renee Simmons Raney in the Campfire Ring or revisit the Bats Alive! program. The weekend concludes on Nov. 1 with the Spookapalooza Critter Show at 9 a.m. in the Campfire Ring. All events are free and open to the public. For more information, contact the JSU Field Schools at fieldschool@jsu.edu or call 256-782-5697.