Annual JSU and Little River Canyon Center Half Marathon Slated for Oct. 10
10/05/2015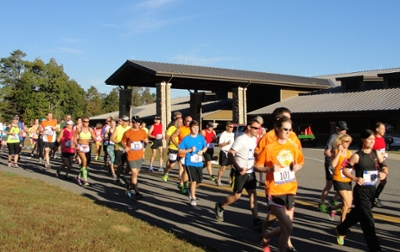 Join runners from around the Southeast as Jacksonville State University and Little River Canyon Center host the 4th annual half marathon slated for Saturday, October 10, 2015 at 8 a.m. Registration fee is $50 prior to October 10 if done online or $70 the day of the race.
The USA Track & Field (USATF) certified course loops 13.1 miles on paved roads, starting and ending at the Little River Canyon Center. The first five miles of the run will follow the Little River Canyon National Preserve's scenic and sometimes challenging rim of the Canyon, as the remainder winds through gently rolling farm country including Randy Owen Drive and his famous Tennessee River Music Hereford and Angus cattle ranch. Runners should keep an eye out as Randy and Kelly Owen are often on hand at the 6- and 8-mile water station. "We always have a great time cheering for the runners, pitching them drinks, snacks, and energy Gu from the house," said Kelly. "We especially love meeting new friends and thanking them for supporting JSU!"
The half marathon will feature five water stations, music, ample law enforcement, shirts, trophies, finishing medals, and much more. Proceeds go to outdoor education and local conservation efforts at Little River Canyon.
"Our primary focus is organization and safety," said JSU's Canyon Center Director Pete Conroy, "but beyond that, we want runners and their supporters to make good memories and have fun."
Early registration and packet pick-up is Friday, Oct. 9, from 2 - 5:00 p.m. and 7:00 a.m. on race day. Use address 472 Alabama Highway 35 Fort Payne, AL 35967-7138 if using a GPS device.
For online registration, please click here.  A $10 discount is available for JSU students, faculty and staff. 
Checks may be made out to the "Little River Canyon Half Marathon" and mailed to: 
Jacksonville State University
Environmental Policy and Information Center
1156 McClellan Building
100 Gamecock Drive
Anniston, AL 36205
For more information, please click here or call the Little River Canyon center at 256-845-3548. 
Photo: The 2013 half marathon (courtesy Pete Conroy).