Who Rules the Roosters at JSU?
09/14/2015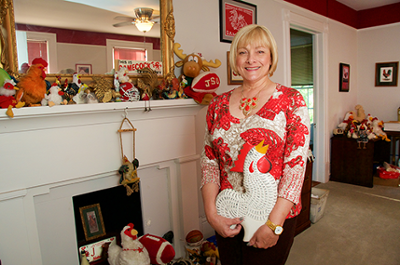 By Heather Greene 
With the Gamecock as our mascot, it is not uncommon to see a rooster or two in an office around campus. However, with nearly 140 roosters in her office, Nancy Turner in the JSU Alumni House currently holds the record for the largest rooster collection on campus. A native of New Jersey, Turner found herself in Alabama as a result of the Army. She came to the Alumni House in 1982, and her rooster collection has accumulated over the past 33 years.
From gourds to slate to brass to Murano Italian glass, Turner has roosters crafted from almost every imaginable substance. She even has one molded from Alabama red clay. One chicken can delight visitors by performing the "Chicken Dance," as would only be appropriate. A frazzled, stressed-out chicken exemplifies how Turner and the Alumni House staff often feel around Homecoming each year. A baby Cocky with a pacifier and a pair of married chickens also hold a place in her office.
"I've never collected a thing in my life," Turner said, reflecting upon the humble beginnings of her rooster collection. What prompted the rooster caboodle? Turner points back to a gift from a friend in 1982 that started it all. However, most have been purchased during her travels, especially from antique shops.
As for selecting a favorite rooster, Turner says it would have to be a small carved ivory rooster given to her by her late husband. Unfortunately, this particular Gamecock broke and now roosts in her home instead of her office.
Turner doesn't just collect novelty roosters as décor for her office but can also be seen rocking several of the 200 rooster pins at football games. These pins are worn with her lucky #45 jersey, an original practice jersey given to her by Jerry Cole, who was the JSU athletic director for 35 years. Perhaps her most special pin would be the Fighting Gamecock given to her by the man who named the Gamecocks back in the 1950s, E.C. "Baldy" Wilson.
When asked how she selects which pins to wear to the game, Turner explained, "Because we won the conference last year, I'll keep the same eleven."
Let's hope Turner's lucky 11 rooster pins bring the Gamecocks good luck this football season!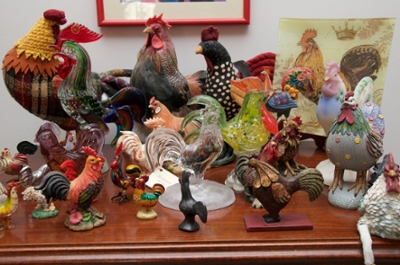 Top right photo: Turner in her office with some of her roosters (Angie Finley/JSU).
Bottom photo: A few of Turner's roosters (Angie Finley/JSU).