Masterpieces Back in the Spotlight at Renovated Hammond Gallery
09/07/2015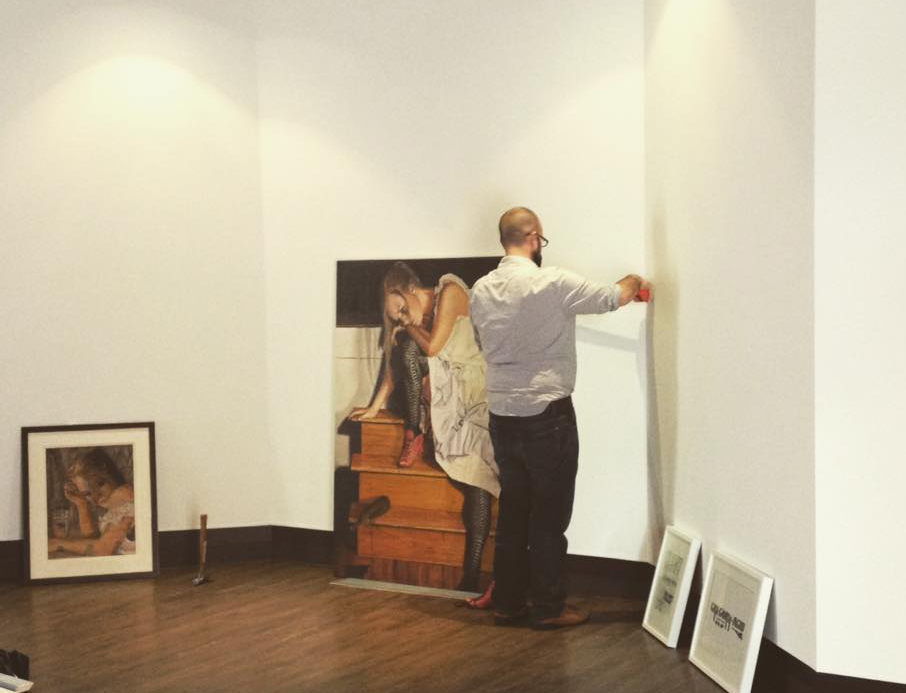 Gallery Coordinator Ray Wetzel hangs "Instill" in the newly renovated Hammond Gallery.
by Katie Cline
The doors of Hammond Gallery – the exhibit space for the JSU Department of Art – have been locked all summer. Few knew what astounding transformations were taking place inside until Thursday, Sept. 3 during a grand reopening celebration.
Gallery coordinator Ray Wetzel, who is charged with making the gallery look picture perfect, was proud to present the newly renovated space. Over the summer, workers replaced outdated carpet flooring with sleek hardwood. Carpeted walls were ousted in favor of sophisticated white drywall. A kitchenette was added in the back of the gallery to accommodate food preparation for events.
With faculty, staff, students and community members admiring the artwork spotlighted on every wall on Thursday evening, the Hammond Gallery reflected the chic and modern atmosphere of the great galleries of New York, Paris and Rome.     
"People have to have a creative outlet, and in major cities like Atlanta or Birmingham, there's a place for them," Wetzel said. "There's not really anything like that at this point in Calhoun County. It's important to give the students a sense of belonging."
The first show to grace the walls of the upgraded gallery is "Instill," a multimedia collection of works created by current and retired JSU faculty – from porcelain pots to framed photos to wall-covering canvases.
Faculty emeriti Diana Cadwallader and Lee Manners contributed colored pencil and watercolor drawings. Other displays included a pastel on pattern paper painting by Ron Baker, an adjunct instructor of foundations; mixed media artwork by Anita Stewart, an adjunct instructor of foundations and art history; digital prints by Christian Dunn, an assistant professor of graphic design; gouache watercolor paintings by Bryce Lafferty, an assistant professor of drawing and painting; a pigment print by Doug Clark, an associate professor of photography; and ceramic displays by John Oles, assistant professor of ceramics.
Wetzel said the purpose of the show is to encourage students to keep perfecting their craft.
"If they trust us and they learn the fundamentals, then they can strive to do anything – be a professor or whatever they want," said Wetzel. 
"Instill" will run through Sept. 24.
Also opening Thursday night were two shows created by students. Hannah Cooper McCauley, who graduated summa cum laude from JSU in the fall of 2012 with a Bachelor of Fine Arts in photography and a current MFA student at Louisiana Tech University, opened her show, "A Singular Sense of Urgency." The series of archival pigment prints features simple and striking images of close-up objects.
Graphic designer Blake Dodgen, a JSU Master of Fine Arts candidate, collaborated over the summer with Allison McElroy, an associate professor of painting and drawing, to create "Colloidal Suspension." The show, which consists of mud painted directly on the wall, is described as a "juxtaposition of the order and chaos created in a meticulous yet meditative manner." All of the soil used in Dodgen's work came from Germania Springs Park.
The art department hosts three shows each month and, after the success of Thursday's re-opening, is eagerly preparing for October's show, "Ley Lines," which will feature contemporary drawings. The show will open with a reception on Oct. 1, 5-7 p.m., and run through Oct. 29.

The Hammond Gallery is located in Hammond Hall at JSU, across from the Theron Montgomery Building on Trustee's Circle. Admission is free and open to the public. Gallery hours are Monday-Friday, 8 a.m. to 4:30 p.m. Visitors must see department secretary Jane Greene for access.
"I want people to come see all of the amazing work coming out of the art department," said Wetzel.