Meet Dr. John Beehler: JSU's Freshman President
08/26/2015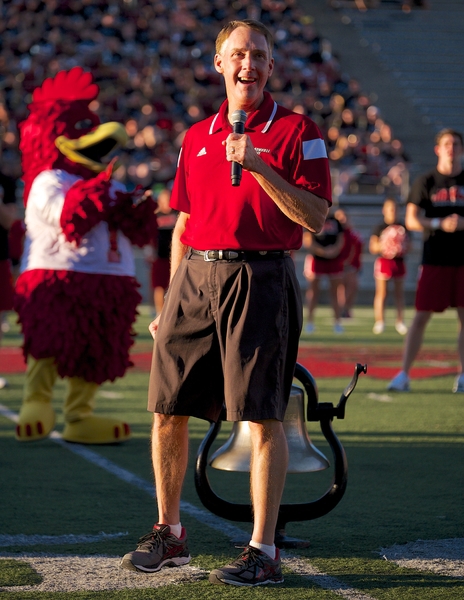 by Buffy Lockette
Magical things happen on a college campus. Like the rogue snowball that changed John Beehler's life.
"One day, while I was walking across campus after a snowstorm, out of nowhere a snowball hit me in the chest," Beehler said. "I looked up and there she was with a great big smile on her face. She got my attention and the rest is history."
Beehler is now Dr. John Beehler, the new president of Jacksonville State University. The woman who threw the snowball – then a collegiate softball and basketball player – is now Dr. Pamela Beehler, JSU's new First Lady.
There's rarely snow on the campus of Jacksonville State, but Beehler says he feels at home here. A graduate of Penn State, he grew up in the foothills on the other side of the Appalachians. The first in his family to attend college, he feels a strong connection to what he calls the "soul" of JSU.
"To me, there is something very spiritual about JSU," Beehler said. "It has a very important mission that is uplifting to all its constituents and will lead to the growth and development of the region and its citizens. Simply stated, the friendliness is deeply rooted in JSU's culture and reflects a loving, caring attitude in developing students for their future careers and life."
Beehler took over the reins as 12th president of the university on July 1, following a nationwide search led by Atlanta-based firm Diversified Search. He follows Dr. William A. Meehan, who retired after 40 years of service to the university, 16 as its president, on June 30.
The new president comes to JSU with 34 years of higher education experience, 20 years in leadership roles. Most recently, he served as dean of the School of Business at Robert Morris University in Pittsburgh. He previously served as founding provost and vice president for academic excellence and student success at the University of North Texas at Dallas, associate provost for economic initiatives and dean of the Haile/US Bank College of Business at Northern Kentucky University, dean of the W. Frank Barton School of Business at Wichita State University, and associate dean at the University of Texas at Arlington.     
A certified public accountant, Beehler has significant experience in college and university accounting and auditing. He earned a Bachelor of Science in accounting from Penn State and an MBA in finance and a Ph.D. in accounting and taxation from Indiana University. 
"I never imagined as a student that someday I would be university president," said Beehler. "I grew up in a small town that provided an ideal family environment. We were taught that everything was possible in America with hard work and faith. As the first born, it was expected that I would do well in school and extracurricular activities and would go to college. Since my parents never graduated from college, they wanted me to graduate and have the opportunities that they never had. I have always been very proud of my parents and never wanted to disappoint them. I felt a big responsibility to graduate from college and be successful."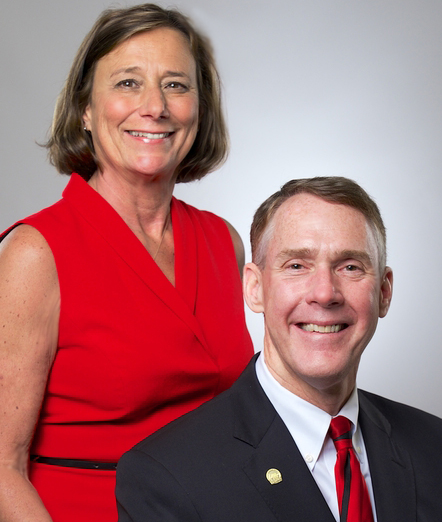 Upon earning his bachelor's degree, Beehler landed a job at one of the world's top accounting firms. To speed his climb up the corporate ladder, he decided to go back to college and pursue an MBA. He taught classes to pay for graduate school and, to his surprise, discovered a love for teaching. Instead of returning to the corporate world, he went on to earn a Ph.D. and launched a career in higher education.
More than 13 years and several teaching awards later, Beehler took on his first leadership role in academia when his peers at the University of Texas at Arlington elected him chair and president of the Faculty Senate. He had a talent for diplomacy, and one of his mentors took notice.
"After seeing me take on various leadership roles, one of my early mentors specifically told me that she thought I was born to be a university president," Beehler said. "This type of encouragement put the idea in my mind and, thereafter, I proceeded to take on increasingly more responsible positions in academic administration to get the diverse experience in higher education needed to become a president. A key factor was the support and encouragement of my wife, Dr. Pamela Beehler, a career academic who has always believed in me."
Beehler met the "love of his life," the girl with great aim, while they were undergraduates at Penn State. The couple married shortly after graduation 38 years ago and the First Lady has had a successful academic career in her own right. She holds a Ph.D. in human performance from Indiana University and is an expert on brain performance and concussions. She spent her entire career as a tenured professor of kinesiology and exercise science, including eight years as a department chair. The couple has one daughter, Kristin, who is a West Point graduate and a captain in the U.S. Army with deployments in Iraq and Kuwait.
Becoming JSU president is a role Beehler has prepared himself for through experience and training. In 2011, he completed a yearlong program specifically designed for aspiring university presidents, the American Academic Leadership Institute's Executive Leadership Academy. He is also a graduate of the Harvard Institutes of Higher Education Management Development Program.
Beehler comes to JSU with respect and admiration for its culture and traditions, as well as ideas for helping move the university forward in today's challenging higher education market.
"Institutions like JSU must focus on students and mission and in some ways behave more like private institutions," Beehler said. "That is, we must realize that enrollment, retention, progression and graduation rates are extremely important as well as securing private support to supplement the decreasing amount of state support. We must be strategic and develop key niches that differentiate us from our competition. We need to increase the use of technology to meet student needs and to be more efficient and effective in what we do." 
While Beehler came to JSU ready to lead on day one, it is not his style to attempt to make sweeping changes overnight. He plans to immerse himself in the university's culture during his first year and gain a better understanding of its challenges and opportunities before making any major structural shifts. A servant leader with a collaborative nature, he wants to develop a collective vision for the university with the entire JSU family. No matter the road ahead, he wants to ensure JSU doesn't lose sight of what makes it special.
"We should not change JSU's friendliness and traditions of excellence," Beehler said. "We should always strive to be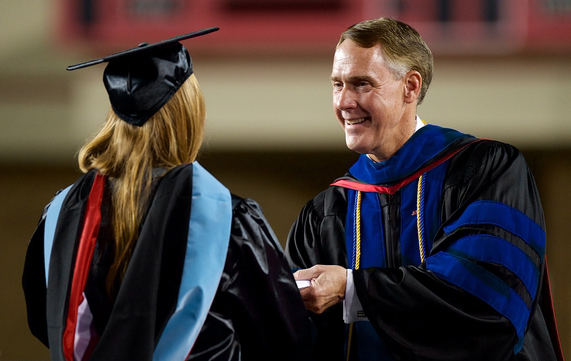 the best in what we do. JSU should not lose sight of its focus on students and their development as educated, ethical, and responsible professionals, leaders and citizens. A focus on their development educationally, culturally, socially, physically and spiritually will always lead to better professionals, leaders and citizens. This, in turn, will benefit our region, state, country and the whole world." 
Just weeks into his new presidency, Beehler's humble and low-maintenance attitude, respectful demeanor and positive energy was already putting the campus that hasn't seen a leadership change in 16 years at ease. He gained admiration from employees and students alike when he moved into a residence hall instead of cooling his heels in a hotel suite while needed renovations are being made to the President's House this fall.
"I am excited about serving JSU and our region," Beehler said. "My tagline is 'It's not all about me, it's not all about you, it's about all of us – the Jacksonville State University Gamecock Family.' I truly believe this and would hope that all of us would adopt this mantra and work for the betterment of all."
Photos by Steve Latham, JSU Photography Director