Listen, Look and Learn at the Little River Canyon Center
08/04/2015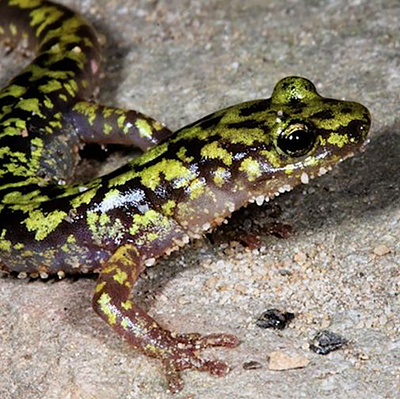 Endangered Little River Green Salamander (courtesy, TN Herpspot of the Day)
Are frogs your favorite or do you find butterflies more beautiful? Is your perfect weekend written in the stars or found underground?
Join experts in fields such as biology, ecology, astronomy, lepidoptery and archaeology for unique learning opportunities at the Little River Canyon Center in Fort Payne, most Saturdays during August through November. Presented by Jacksonville State University Field Schools, these informative and interactive programs are completely free to Canyon Center visitors!
Renee Simmons Morrison, assistant director of the JSU Field Schools, developed Listen, Look and Learn! through a JSU partnership with DeSoto State Park, the National Park Service, Alabama Tourism and NASA  for audiences of all ages. Families are encouraged to attend programs together and to extend what they learn by exploring the beautiful trails at the Little River Canyon Center, Little River National Preserve and DeSoto State Park. 
"We hope these programs spark an interest in visitors of all ages and all backgrounds to learn more about the diversity and beauty of Alabama's natural and cultural resources," explains Morrison. "Listen to an expert on salamanders, butterflies, archaeology, stars or bats. Take a hike. Wade in Little River. Picnic underneath a giant oak tree. Build a fairy house. Enjoy being outside!" 
Here's what you need to know to participate:
When Most Saturdays at Little River Canyon Center
Time 11 a.m. - noon CT
Cost Free
Scheduled Programs
Aug 8 Amazing Amphibians with Dr. James Rayburn, JSU (Amphibians of Alabama Weekend at DeSoto State Park)
Aug 15 Salamanders of Little River with Dr. George Cline, JSU 
Aug 22 Pluto (NASA) with Dr. Laura Weinkauf, JSU
Aug 29 Incredible Service Dogs with Haley Conroy (Dog Daze Festival)
Sep 12 Unique Photos of Little River & DeKalb County with John Dersham
Sep 19 Butterflies of Alabama with Vitaly Charny (Butterflies of Alabama Weekend at DeSoto State Park)
Oct 24 Sandstone Glades with Michelle Reynolds & Quilting Block Workshop (1-3 pm; registration required for quilt workshop)
Oct 31 Bats ALIVE! with Vicky Smith (Spookapalooza Weekend at Canyon Center and DeSoto State Park; sponsored by Friends of Little River)
Nov 7 Fairy Houses with Renee Simmons Morrison (Canyon Fest)
Nov 14 Hernando DeSoto and Little River Archaeology with Dr. Harry Holstein (Native American Heritage Day at Canyon Center)
For more information email Morrison or call the JSU Field School Office at (256) 782-5697 or the Canyon Center Office at (256) 845-3548.