JSU Cheerleaders, Cocky Get Gold Bid to Nationals
08/10/2015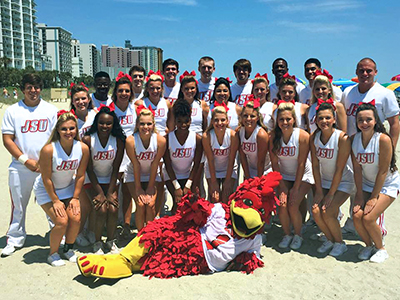 They may root for the red and white, but today they're golden.
Last week at the National Cheerleading Association College Camp in Myrtle Beach, S.C., the JSU Cheerleaders won both the game day routine and rally day routine to receive a gold bid to the 2016 NCA College Nationals in Daytona Beach, slated for April. Mascot Cocky also won Best All Around Mascot and All-American Mascot, which sealed his qualification for the 2016 NCA College Nationals, as well. 
"JSU represented well. I just can't believe what they have accomplished in two years," said Donna Callan, manager.
Callan is referring to the JSU squad's second consecutive year to compete in Daytona. Last year they received a silver bid at Myrtle Beach and went on to capture 10th place in their division at Nationals, which took place in June. Cocky was one of only three out of 20 mascots to receive an award at Nationals, earning "Most Improved."
Dave Almeida serves as the squad's head coach. Johnnie Neal is the volunteer coach.
Members of the squad are:
Lauren Ashmore
Brooklyn Bean
Brittany Cates
Hannah Cronan
Dayleight Dorsett
Tori Frederick
Kasey Gamble
Justice Gray
Hollie Hallmark
Julianna Hill
Alicia Kittles
Leslie Puckett
Lindsay Roberts
Presley Smith
Harlie Vines
Carlee Waits
Beana Whitten
Dylan Burns
Jai Harris
Christian Henson
Karl Kiesler
Brett Langston
Derek Langston
Jamon Phillips
Justin Pickerill
Donald Smith 
Cocky
All for the Jax State Cheerleaders and Cocky, stand up and holler!
Follow JSU Cheerleading on Facebook