Recap of the July 20 JSU Board of Trustees Meeting
07/20/2015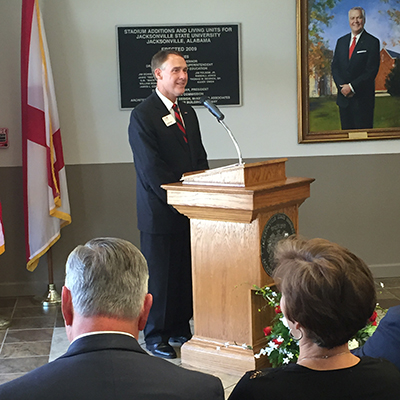 Retired President Bill Meehan and former First Lady Beth Meehan, foreground, listen to remarks from President Beehler during the dedication of Meehan Hall- formerly Stadium Tower- on Monday, July 20. (Buffy Lockette/JSU)
"This is a meeting of many firsts," board chairman Jim Bennett said after calling the summer meeting of the JSU Board of Trustees to order on July 20. 
It was the first official meeting for JSU President John Beehler, who took the helm as the university's 12th president just 20 days prior. It was also the first meeting for new trustee Tony Ingram, a JSU alumnus who resides in Jacksonville, Florida. SGA President Tyler Brown and Faculty Senate President Windon Edge were also welcomed to their first meeting in their new roles. 
Recap: 
Randy Owen, chair of the Academic Affairs Committee, and Jim Coxwell, chair of the Athletics Committee, expressed they had no action items to report to the board. 
Ronnie Smith, chair of the Building and Finance Committee, brought forth the following items: 
2015-16 Interim Budget - The committee has drafted an interim budget for the upcoming fiscal year. 
Resolution 568, President's Home Renovations - The board passed a resolution to renovate the President's House, with a proposed budget of $326,927. With the departure of the Meehan family after 16 years of occupation, there are several house integrity deficiencies to be addressed including window replacement and kitchen and bathroom modernization. Smith said the house underwent renovations of similar scope and cost prior to the Meehans' occupation and suggested the board be mindful that it needs to budget for upgrades during presidential transitions. The Beehlers are currently living in a residence hall on campus while work begins on the President's House. Work is scheduled to begin in August and be completed by Nov. 30. 
President's Contract Amendment - The board clarified terms in President Beehler's contract, specifically that long-term disability insurance is to be provided by the university
RMC Lease - A 10-year lease has been executed with RMC to create a simulation lab for the College of Nursing. 
Dr. Beehler expressed that he and First Lady Dr. Pam Beehler have been overwhelmed by the kindness and generosity of the campus and local communities since their arrival on July 1. "This is not only the Friendliest Campus in the South, but the friendliest place on earth," Beehler said. "We are proud to be called Gamecocks and Alabamians."
Also during the meeting the board voted to recommend President Emeritus status for retired President Bill Meehan. Following the meeting, the trustees gathered to dedicate William A. Meehan Hall - formerly known as Stadium Tower - in Dr. Meehan's honor.