Music for the Mind: Local Festival Benefits JSU Student's Nonprofit
07/06/2015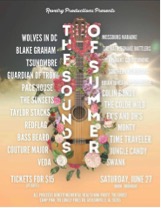 by Katie Cline
"Music can lift us out of depression or move us to tears – it is a remedy, a tonic, orange juice for the ear," according to Oliver Sacks, a noted British neurologist and author of "Musicophilia: Tales of Music and the Brain." JSU graduate Torsten Dryden, who is returning to campus this fall to pursue a Master of Science in Clinical Mental Health Counseling, is using music to help people cope with depression, anxiety, addiction and other mental health issues.       
The 2014 JSU graduate and Jacksonville native has founded The Choice, a new charity in the process of seeking non-profit status. Its goal is to serve as a multifaceted, mental health resource that matches people with mental health care support that best suits their needs.
"Someone might find a 12-step program more suitable than religious counseling and vise versa," Dryden said. "We will be working with different mental health care professionals around the state to establish a network for The Choice."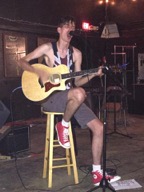 To raise funds, Dryden recently organized an all-day music festival that highlighted the talent in his own community. Held at Camp Pink in Jacksonville on June 27, the Sounds of Summer Music Festival highlighted 20 bands and artists from across the state and brought in more than 1,000 guests to enjoy food, drink and music for a good cause. The event featured bands from a variety of genres – from the Brian Jones Jazz Collective to the metal band VEDA to the Gadsden-based math rock group Pace House. Solo acts included Taylor Stacks, Colin Bondy and Blake Graham.
"All of the bands had a blast performing," said Dryden who, in addition to organizing the festival, also fronted one of the bands, synthpop group The Sunsets. "The inspiration from the event came from several different points. I have always been fascinated with psychology and have known many friends to suffer from different disorders ranging from depression to drug addiction to eating disorders. The Choice's mission is to make the public more aware of the resources available to them. Many people are not aware of the fact that simple lifestyle changes can prevent a variety of different mental disorders. In fact, the title of the organization stems from the fact that we have the choice to seek help."
Dryden graduated from Jacksonville High School in 2010 and began attending JSU that fall. As an undergraduate he was active in a variety of organizations on campus, including the Marching Southerners drum line. He also served as chief justice of the Student Government Association, president of the psychology honor society Psi Chi, president of the Greek honor society Order of Omega, and president of Sigma Nu Fraternity. He graduated in December 2014 with a B.S. in psychology.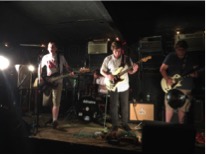 If you missed out on this year's Sounds of Summer, fear not! Dryden hopes to hold similar events to benefit The Choice in the future. He hopes to bring back the summer music festival as an annual event with an even wider reach.
In a world where talking about mental health disorders is too often viewed as taboo, Dryden is striving to create an environment of comfort, understanding and hope in his community. His efforts are just another example of the monumental and life-changing impact JSU students have in their communities.