JSU Names New International House Director
07/21/2015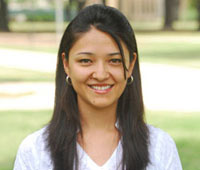 Chandni Khadka has been named director of the JSU International House and Programs, effective 

January 4, 2016

. She will provide leadership for the International House and act as an advisor for international students. She will also be responsible for International Programs at JSU, providing campus-wide support and activities to promote cultural diversity, assessing program needs, implementing and administering appropriate services for students and managing staff. 

Khadka currently serves as director of International Student Services in the Office of International Programs at Arkansas State University, having previously served as senior admissions officer and coordinator of special projects in the same office since 2011. She holds a Bachelor's of Business Administration in marketing from Nepal College of Management, Kathmandu, Nepal, and a Master's of Business Administration in management from the University of North Alabama. She has been awarded the Dale Carnegie "Highest Award for Achievement."

Dr. Teresa Reed, professor of English, served as interim director for 2014-2015 following the retirement of long-time director Dr. John Ketterer. David Myer, instructor for English, will serve as interim director for the Fall 2015 term before Khadka arrives in January. The university would like to thank Reed and Myer for their service. We look forward to welcoming Chandni to the JSU Family in January.