JSU Fishing Teams Reel in Tournament Awards
07/02/2015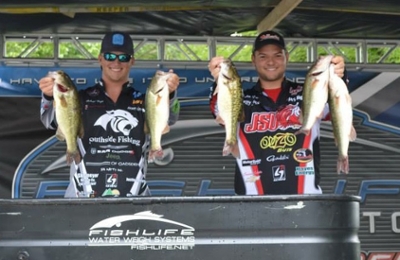 Recently, the Jacksonville State University Fishing Team was well represented at the Fishlife Collegiate Tournament at Neely Henry. The team of Madison Hayes and Hunter Hayes took first place, and the team of Drake Champion and Colter Turner came in sixth place. The JSU Fishing Team competed with fishing teams from universities and colleges across the state.  
Hunter Hayes, age 23, is a Gadsden resident and JSU alumnus with a bachelors in business management. He is currently halfway through his masters in business administration. Madison Hayes, age 19, is also a Gadsden resident and a sophomore nursing major. 
Jacksonville State University is very proud of the teams and wishes them the best of luck in all of their future endeavors!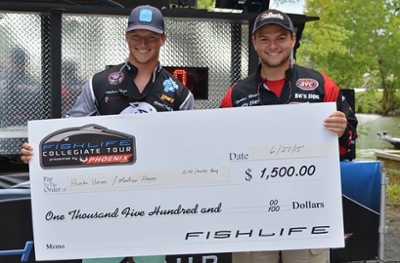 Top Photo: Hunter Hayes and Madison Hayes display their catches (courtesy Mark Matthews). 
Bottom Photo: Hunter Hayes and Madison Hayes with their check (courtesy Mark Matthews).