From the Boonies to Broadway: JSU Student Lands Internship in New York
07/02/2015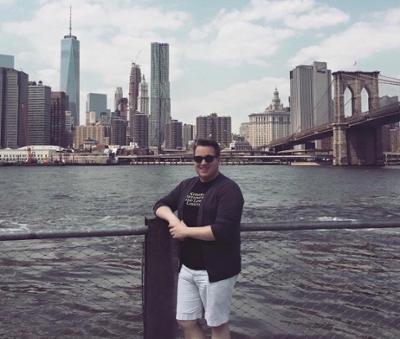 While many students fill their summer with Netflix and naps, one JSU student has taken a bite out of the Big Apple.
JSU senior and Broadway baby Macon Prickett, who was raised on a farm in Alexandria, is interning on Broadway this summer at the Roundabout Theatre Company. The public relations major and drama minor has been in the Empire State since early June and will continue there until mid-August, where he is serving as a marketing intern doing press and advertising work for the company. 
"The best part of the internship is that I am constantly networking with various employees throughout the theatre community at advertising agencies, press agencies, and other theatre companies throughout New York," explained Prickett. "I knew I wanted to have an unforgettable experience for my internship, so I applied for close to 60 internships, most in New York City in various positions of theatrical administration and public relations. I ended up getting interviews with Roundabout, Signature Theatre and the Rodgers and Hammerstein Organization. I was luckily offered the job with all three and decided to take the position at Roundabout Theatre Company because their internship program is like no other and offers experiences that no others can."
Prickett's duties include compiling various reports, running advertisements for approval and helping the marketing department with day-to-day tasks. He has been afforded the opportunity to meet and have sessions with the company's artistic director, general manager and executive director – gaining tips from top executives in the musical theatre world that will come in handy in his future career. Recently, he joined the American Theatre Wing's Intern Network, which provides him with tools and connections as well as general advice from some of the most successful people in the industry.
"I've learned so much already as far as daily office tasks but also so much about myself," said Prickett. "I've learned how to handle things more professionally, how to be more patient and to always be kind to others because you never know who will rise and be able to give you a helping hand one day." 
Prickett has been able to take in several Broadway shows through discounted student ticket programs, attended the Tony Awards, and has even met a few stars of the stage like actress Kristin Chenoweth. 
"It's funny, coming from the farm country of Alabama to Broadway," said Prickett. "But it has been treating me very well so far so who knows where this crazy yellow brick road will lead to in the future?"
So what does Prickett hope to do upon graduating from JSU in December?
"I feel it's not fair to myself to only have one goal," he said. "I hope to produce, direct, perform, teach and inspire others to love and contribute to theatre as I do. The arts are so important to me and I want nothing more than to be able to be successful in the theatre world and hopefully one day bring my love of theatre and the arts back home to Calhoun County."
He said he plans to move back up to NYC next summer. 
"Whether I get hired as an assistant for a theatre company or a new production – as long as I'm working in the theatre industry I'll be happy," he said.
 Photo: Macon Prickett in New York (courtesy Macon Prickett).