Second Annual Bluegrass on the Rim Returns to Little River Canyon Center June 13
06/02/2015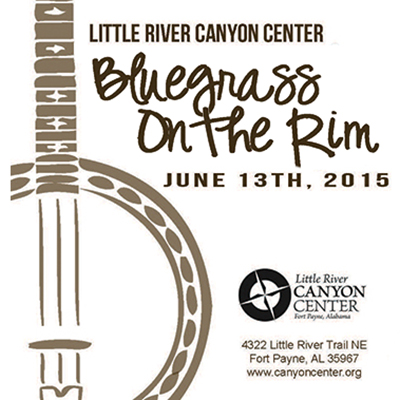 Bluegrass on the Rim is back!
Steal away to the Little River Canyon Center in Fort Payne on Saturday, June 13 for a little music under the stars as the Canyon Concert Series returns for its second year. This year's Bluegrass on the Rim features top bluegrass performers from around the country as they play authentic mountain music guaranteed to resonate with die-hard bluegrass purists as well as followers of folk, country, rhythm and blues and rock and roll.
On this year's lineup are Foggy Hollow Review, Valley Road, Bent Creek, Kelli Johnson and Jason Bailey, and Barbwire Bluegrass along with Masters of Ceremony Glen Williams and Carl Brady.
Talent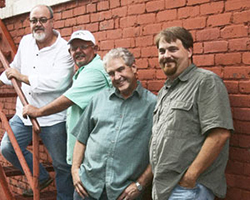 The Foggy Hollow Review
The Foggy Hollow Review brings together a unique blend of musicians from several genres over the past years. All of the members hail from and live in the foothill area of the Appalachians. However, not only do they have a love for the traditional tunes that are for the home area, all have put together a vast blend of musical backgrounds.
On Guitar, Rick Goodwin, has played, rock, top 40, oldies, acoustic and bluegrass. Rick lends a great deal to the lead and harmony vocals as well as acoustic guitar playing second to none.
On Bass and vocals, Keith LaBenne brings his taste and talent for classical cello and viola to deliver an awesome hot lick and slap on the upright bass.
Lloyd Andrews, the Dobro (lap style resonator guitar) player of the group comes from a long background of electric bass in oldies, rock and even a bit of church music.
Glen Williams, after years of acoustic music on guitar and vocals, adds a bit of Mandolin to the sound. Using Bluegrass, Country and Contemporary licks to the song list.
The Band mixes traditional and modern bluegrass with old re-arranged country. Its all feel good, toe tapping, sing a long music.
Video: Foggy Hollow Review Promo Set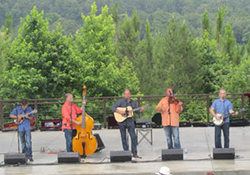 Valley Road
Valley Road began about 8 years ago with a banjo and guitar...literally. Johnny Goss (guitar) and Luke Ford (banjo) met up in their hometown of Alexandria, AL, struck up a friendship, and began jamming almost immediately. After a few line-up changes, Mike Smitherman stepped in and added another piece to the puzzle, wailing mercilessly (but beautifully) on his Old Wave F-Style mandolin and singing baritone. Eventually, he made the decision to move to the upright bass, and has been providing a steady powerful beat ever since. David Johnson came to the band with his high tenor voice and 1800s German-made fiddle, sawing a lonesome melody that has come to be the glue that holds this group of musical souls together. And finally came Josh palmer, our most recent addition, picking his Ratliff mandolin at amazing speeds and precision. Yep....this puzzle is complete and ready for framing!
Video: If You Can't Be Good, Be Gone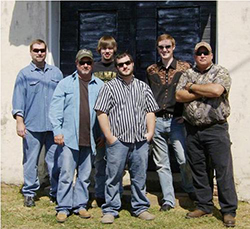 Bent Creek
Bent Creek From the foot hills of the Appalachian mountains in Northeast Alabama lies the small communities of Spring Garden, Rockrun Station , and Nances Creek, and Hayden, AL and now Chattnooga TN This is where the Bent Creek Band started.
We love to play and sing for people and respect the Bluegrass music and its elders. We would like to thank God for giving us this talent.
We would also like to thank our wives and families for letting us go on the road and play Bluegrass music. We have the best fans in the world and would like to thank them for their support.
Hope to see you at the next show.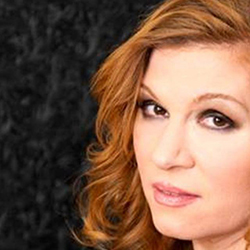 Kelli Johnson Music
Kelli has played and recorded with Chimney Peak, Sweetwater Road, and The Kelli Johnson band and has shared the stage with acts such as Claire Lynch, Valeri Smith, IIIrd Time Out, and opened for Marty Raybon, Exile, and Sugarland!  In 2009 she was the opening act for the First annual Alabama Bluegrass Music Hall of Fame Induction, where she later performed with Bluegrass Legends Three on a String, Gary Waldrop, Jake Landers, and the Whites.

She was a Top Four finalist on the tv show " Original Artist" and has worked with Herd Records in Mobile as a songwriter. Several of her songs have appeared in regional and national tv commercials, and she also wrote "Brand New Day" which became the campaign song for 2010 Alabama Gubernatorial Candidate Judge Roy Moore .

Her song "Somebody in Alabama Loves You" was also recently recorded by Blue Circle Records recording artists The Bluegrass Soul Pickers on their cd "If I Ever Get Home".
Kelli splits her time performing solo, or with her band Sweetwater Road. She also hosts and produces her own TV show, 'Kelli Johnson LIVE", which airs on WJXS TV 24 in Jacksonville , AL. It focuses on local and regional musicians in and around NE Alabama and is broadcast into over 250,000 homes each week.
Video: Over My Head
Barbwire Bluegrass
Barbwire Bluegrass Band consists of 5 guys that love Bluegrass Music. We bring together the knowledge and experience of Jimmy Ross, Ricky Ponder and Curtis Jones along with the enthusiasm and pure talent of Ben Ponder, and Brett Cantrell.

We came together not by geography, as we all live in different areas of Georgia, but by a common goal, good Bluegrass Music.
Most of the music we play is original material, written by band members. Band Members shown above are, from left to right:

Jimmy Ross - Dobro
Ricky Ponder - Vocals, Guitar
Ben Ponder - Vocals, Bass
Brett Cantrell - Vocals, Banjo
Curtis Jones - Mandolin

Come sit down, relax a while, and take a listen. We enjoy having you.
Doors open at 4 pm and the show begins at 5, so arrive early and bring lawn chairs, blankets, family and friends, to sit before the new Canyon Concert outdoor stage adjacent to the beautiful Little River Canyon National Preserve. Food vendors will be on hand along with on-site restrooms and the other comforts of home.
We'll see you there!
Advanced Tickets: $10 (Kids FREE)
At the Door: $15 
Visit the Canyon Concert Series Website

Tickets and information are also available on location at the Little Canyon Center.
Don't miss another premier Canyon Concert supported by Jacksonville State University and the Northeast Alabama Entertainment Initiative.