JSU Television Services Receives Prestigious Recognition
06/17/2015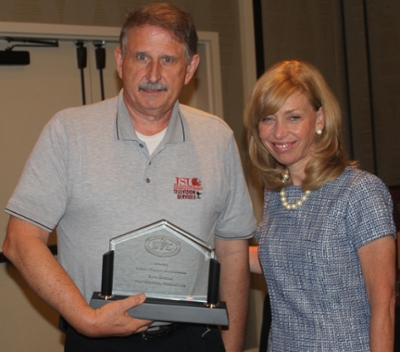 Jacksonville State University's Television Services Department has been recognized for its production and broadcast quality on the Ohio Valley Digital Network for the 2014-15 year. TV Services received the Overall Award of Excellence in Professional Production as part of the inaugural Ohio Valley Conference (OVC) Program of Excellence at the OVC spring meeting in Nashville, TN.
The OVC Digital Network launched in August 2012 and is the exclusive home for live web streamed athletic events and ancillary programming involving OVC schools.  The programming is available live free of charge in a high-definition format on any computer, smart phone, or tablet without any registration of special downloads or apps. The events are also archived and can be watched anytime at ovcdigitalnetwork.com. Since its inception, the OVC Digital Network has broadcast 2,000 events to more than one million viewers across the world. 
Mike Hathcock the Director of JSU Television Services says it is a big honor to receive the Overall Award of Excellence designation from the OVC. He explained that it takes countless hours to produce a live sporting event such as football, adding that students from the JSU Communication Department who participate with TV Services are able to "get real-world live production experience."
"Television Services uses two full size production trucks to produce JSU football, basketball, baseball, softball, volleyball and soccer," explained Hathcock. "In addition to streaming, most of the games are carried live on WEAC TV24."
Television Services was also recently honored with a nomination in the Live Game Production category for a JSU football production last fall by the Sports Video Group and the National Association of Collegiate Directors of Athletics at their 2015 College Sports Media Awards (CSMA) program and summit in Atlanta, GA. 
This awards program features the best of the best in several categories, and JSU was included in the Collegiate Student classification. Hathcock explained that there were more than 400 entries from around the country.
Hathcock, who was honored to be selected as a judge in the Regional Network category, had the opportunity to see "some great work by producers from across the country."
Attendees of the Sports Summit received a private tour of the new College Sports Hall of Fame in downtown Atlanta. The 2015 CSMA finalists projects were shown on the "Big Screen" video board, part of a simulated football field inside the Hall of Fame building.  Hathcock said it was cool to see JSU football footage included with footage from the "big boys" such as ESPN, CBS, and FOX Sports.
For more information about JSU Television services, please click here. 
Photo: Mike Hathcock receives award from OVC Commissioner Beth Debauche in Nashville,TN. (Mike Hathcock).