JSU Housekeeper Opens Heart and Home to Foster Children
06/15/2015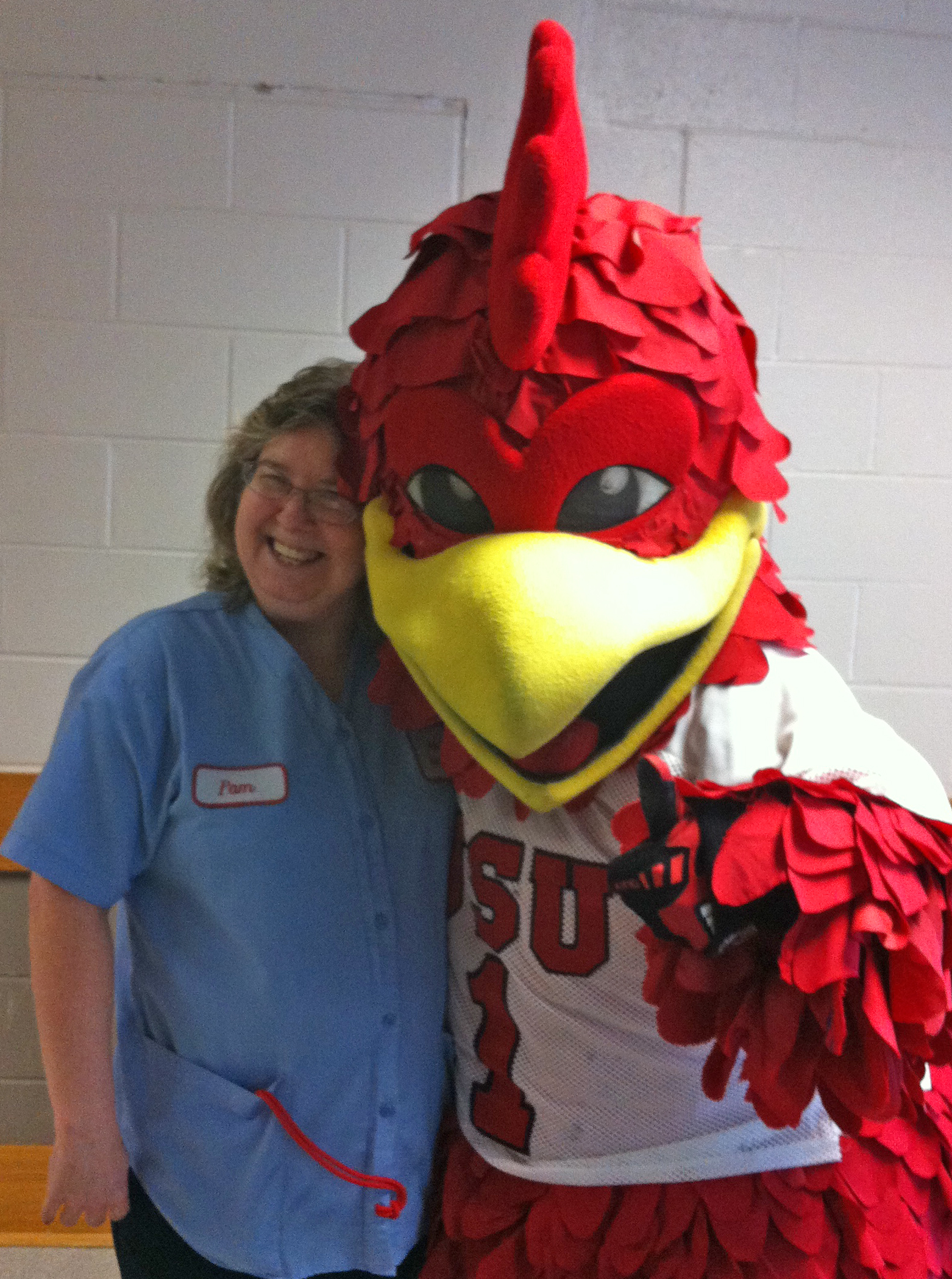 Mother hen Pam Richey poses with Cocky.
Housekeeper Pam Richey spends her days making the buildings she cleans on campus feel like home. After hours, she opens up her own house to foster kids. She and her husband, Ronny, have fostered 11 children through Alabama Baptist Children's Home over the past five years. 
"I've always loved kids," she said. "They have always been my main source of energy." 
Richey has worked at JSU for nearly 16 years. Each August, she moves to a new building. This year she worked in Bibb Graves Hall. She spends the summer months rotating to various residence halls and buildings in need of extra attention. She hasn't yet learned what her building assignment will be this fall. 
She decided to become a foster parent after having a conversation with Linda Shelton in the JSU Counseling Center while making her rounds one day back in 2009. Shelton noticed Richey lit up whenever she talked about kids. Since Richey and her husband had already raised their children, Shelton suggested she fill her empty nest with those in need of a safe and loving temporary home.
"I went home that night and told my husband that we were going to go to classes and become foster parents," Richey said. "And he said 'okay.' He was a little skeptical at first, but he started enjoying it and now loves it too." 
After completing the screening and training process, the Richeys welcomed their first children in 2010: three siblings, ages 1, 6 and 7. They ended up fostering them for three years until they were adopted. Since then, the Richeys have fostered eight other children who were ultimately able to return to their parents or find permanent housing with other relatives. 
"The first children you get attached to," Richey said. "They told us that. It was hard. We had to do a lot of praying about it. Once they were gone the better it got and the stronger we became as foster parents. You learn something new from each child because they're all different. You have to be different with each one because they all need different things." 
Richey grew up in Weaver, the youngest of four children, and now calls Alexandria home. She teaches the toddler Sunday School class at Alexandria Baptist Church while her husband drives the children's ministry bus. They share three grown children - Briana, MacKenzie and Justin - and two grandchildren. They are also proud pet parents to three dogs and a cat. 
For those interested in becoming foster parents, Richey has some words of advice. 
"You can't have any second thoughts," she said. "You've got to make sure this is something you want to do. You have to really feel the need in your heart to go through all the stress. Sometimes you get hate from the children because they have been through so much - you can't take what they say personally. You have to show them love, tell them you love them, and whether they want it or not give them as much love as you can."