JSU Selects John M. Beehler as 12th President
05/08/2015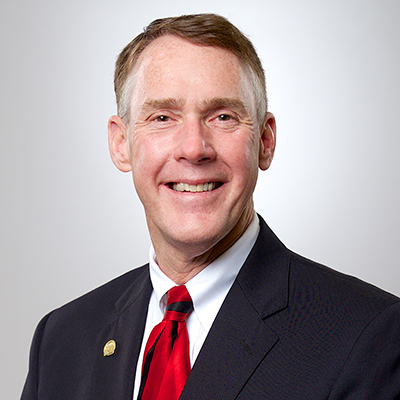 Dr. John M. Beehler, JSU's 12th President. (Steve Latham/JSU)
John M. Beehler was named the 12th president of Jacksonville State University today during a special session of the Board of Trustees held on campus at Houston Cole Library. He assumes the helm on July 1. 
Beehler succeeds William A. Meehan, who retires June 30 having held the third longest presidency in the university's history, 16 years. Beehler was selected following a nationwide search led by the Atlanta-based firm, Diversified Search. Applicants were narrowed to three finalists, who each visited campus in April to meet with faculty, staff, students and the general public. The JSU Board of Trustees made the final selection following in-person interviews and reviewing feedback gathered during campus forums.
For the past 20 years, Beehler has served in a wide range of higher education leadership positions. He is currently dean of the School of Business at Robert Morris University in Pittsburgh. He previously served as founding provost and vice president for academic excellence and student success at the University of North Texas at Dallas, associate provost for economic initiatives and dean of the College of Business at Northern Kentucky University, dean of the School of Business at Wichita State University, and associate dean at the University of Texas at Arlington. 
A certified public accountant, Beehler has significant experience in college and university accounting and auditing. He is a graduate of the Harvard Institutes of Higher Education Management Development Program and the American Academic Leadership Institute's Executive Leadership Academy. He earned a Bachelor of Science in accounting from The Pennsylvania State University and an MBA in finance and Ph.D. in accounting and taxation from Indiana University.