University Honors President Meehan at Retirement Celebration
04/10/2015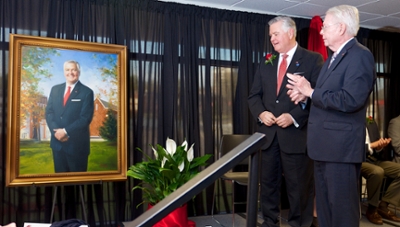 More than a thousand JSU faculty, staff, students, alumni and friends gathered on campus April 3 to pay tribute to Dr. William A. Meehan – the 11th president of the university – during his retirement celebration. 
The remarks were kicked off in a humorous manner, as Meehan was presented with a lifetime membership to the ROMEO (Retired Old Men Eating Out) Club in Jacksonville by former JSU Trustee Red Etheridge.
On behalf of Jacksonville Mayor Johnny Smith, City Councilman Mark Jones presented Meehan a key to the City of Jacksonville, humorously noting the popular president isn't likely to find any doors in Jacksonville shut to him.
U.S. Congressman Mike Rogers presented Meehan with a resolution from the U.S. House of Representatives and an American flag that had been flown over the capitol during one of Meehan's visits to D.C.   
Senator Vivian Figures, a JSU Trustee, noted how "bittersweet" it was to celebrate the retirement of a "great man," adding her high esteem of Meehan and his entire family. She presented a resolution on behalf of herself and Senator Del Marsh that had been signed by all 35 Alabama senators.
Provost Rebecca Turner presented inscribed bricks in honor of President Meehan and First Lady Beth Meehan, to be installed along the Alumni House walkway.
Vice President of Advancement Charles Lewis presented Meehan a coffee table book chronicling his time at JSU. He also announced the creation of the Dr. William A. Meehan Endowed Scholarship – which had already accumulated $42,000 before the public announcement.
Former Alabama Secretary of State and JSU Trustee Jim Bennett unveiled the official Meehan presidential portrait, which will hang in the boardroom of the Houston Cole Library.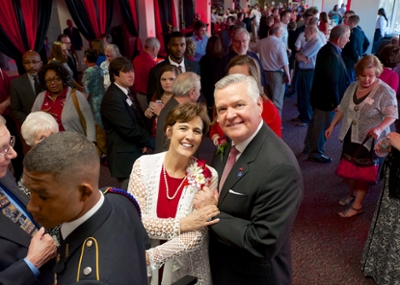 "I want to thank you for all the support you have given to me over the years," Meehan told the crowd. "This is a wonderful university and our Presidential Search Committee and the Trustees are working very hard to find another leader who will have a great opportunity as I did to build on the success of others that are here. That individual will have a wonderful institution, a great community and a great foundation to build his or her legacy on. I want to thank each of you for the support that you gave me and my family. I hope we have been able to add value to the experience of those who participate here because that is what these institutions are all about. I ask you during this time of change and challenge to give the new leadership the support you have given me and to continue the wonderful aspect of Jacksonville State University that this community has experienced."
Dr. Meehan also thanked his wife of 22 years and JSU alumna Beth Meehan. She also addressed the audience. "It has been a wonderful ride," she said. "We have had a great time. We have been so blessed to go to different places and talk to different presidents and first ladies. They talk to us about how hard it is sometimes and we come home so thankful for what we have been able to do because being alumni of this university makes it much more special for us to do what we do every day because we are invested. It has very been wonderful. We have enjoyed it and we are still going to be here. We are going to just be Gamecock fans."
To see a synopsis of what Dr. Meehan was able to accomplish throughout his 16 years as JSU President, view the Meehan Legacy video unveiled during the celebration.
Photos: 
Top: Jim Bennett presenting Dr. Meehan with his official presidential portrait, which will hang in the Houston Cole Library (Steve Latham). 
Bottom: President William A. Meehan and First Lady Beth Meehan in the receiving line (Steve Latham).