JSU Drama Treads Among Serpents
04/02/2015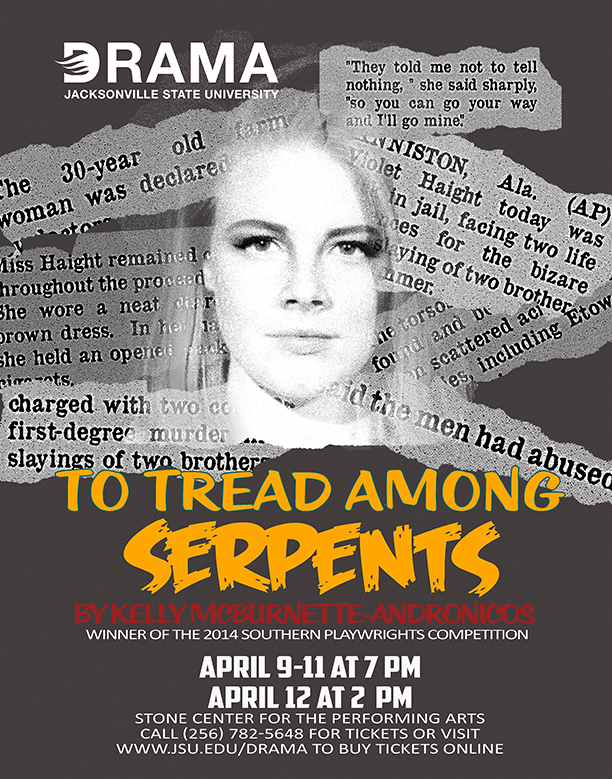 JSU Drama will host the world premiere of "To Tread Among Serpents," winner of the 2014 Southern Playwrights competition, on April 9-12. Written by Kelly McBurnette-Andronicos, the production uses historical events to examine the ideas of fame, truth and motive.
Inspired by a local murder mystery, the new play explores the aftermath of a double murder in Rabbittown, Alabama and the infamous woman convicted of the crime. New York reporter Juanita Cohen seeks to find out why pig farmer Violet Haight murdered her boyfriend and his brother. Not satisfied with the explanation, Juanita begins to publish her own version as she continues to dig for the truth. Will she find it?
The show is directed by Caroline Price, assistant professor of drama, and the cast includes:
Juanita "JC" Cohen: Savannah Jones
Violet Haight: Sadie Bell Freeman
Janitor/Lulu Lemoine: Alexandria Bates 
Jasper "Junior" Scroggins: Tanner Cain
Performances will be held at JSU's Stone Center for the Performing Arts on April 9-11, 7 p.m., and April 12, 2 p.m. Tickets are $12 for the general public and $8 for JSU students and employees, seniors and military. Purchase tickets online or by calling the box office at 256-782-5648.