Holocaust Survivor and His Daughter to Speak at JSU on April 14
04/06/2015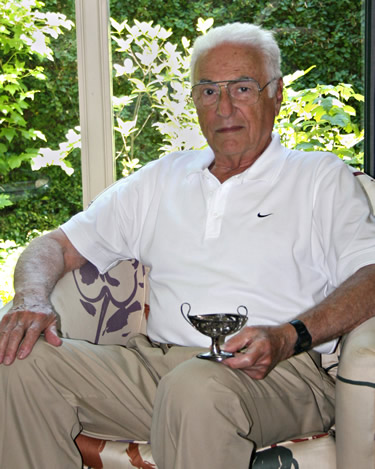 By Heather Greene
Born in 1926, Dr. Robert May had the unique historical perspective of witnessing Adolf Hitler's rise to power – which began in 1933 – from the small German town of Camberg.
"I was in grammar school when Hitler came to power," May said. "It became intolerable and my parents took me out of my little school...and shipped me to a Jewish day school in Frankfurt, which was very far advanced in teaching methods." 
While at the school, May had the opportunity to receive an extremely advanced education, which he said was "par excellence," for about three and a half years, until age 12.
In November 1938, May's dreams to continue with this education were seemingly shattered along with the shards of broken glass which lay across the streets of Germany and Austria following "Kristallnacht," – German for "Night of Broken Glass." He and his aunt were able to leave their house before the Nazis came in and destroyed everything that could be broken. May recalls that the Jewish synagogues, in addition to his school, were destroyed, and he was left without a safe place to go.
While he witnessed Kristallnacht in the big city of Frankfurt, his parents – who were in a small town – had an even harsher experience that evening. Having received a warning about the events to come, they spent the night in a Jewish cemetery for safety. The next morning they returned to a house and business totally destroyed.
During this time England began opening its doors to Jewish children through the "Kindertransport" rescue program. May's parents placed him on a train to England. Fortunately, he had an uncle living in Holland who was able to send him to a private Jewish school in England, instead of being placed in a shelter like many of the other refugee children. 
About six months after May made it to England, his parents were able to escape to there as well – just two days before the war started – while waiting for their quota to come up so they could get into America. May also had two older brothers. One brother was in medical school in Germany but was kicked out of school when the anti-Semitism of the Nazi regime permeated Europe. His other brother had just finished high school when tensions were rising over Germany, so he migrated to Italy. 
May spent a year and a half in England when his visa to the U.S. was approved. By this time, the London Blitz was happening in England, but he was able to escape most of the bombing by coming to America in 1940 by way of Cuba and then to New Orleans. 
Unlike many Jewish families who were torn apart during the Holocaust, May's family, including his two brothers, was reunited in America. In fact, his brothers aided in the fight against the Third Reich and joined the U.S. Army during World War II. After finishing his high school education in New Orleans, May attended Tulane University and Louisiana State University Medical School. At this point, the U.S. was fully engaged in World War II. 
In America, May found himself in one of the greatest time periods in American history. He thrived in this new world, where his Judaism was not a major concern. 
"It was fun going to school," May said. "It was fun learning. It was fun succeeding and being accepted and not being bullied and made fun of and ostracized and isolated. I became part of a Boys Scouts group. I became part of a class. I had friends, acquaintances who would accept me."
Due to the growing need for doctors during and after the war, there were accelerated medical programs available, and May finished medical school at the young age of 22 in 1948. He served in the U.S. Air Force during the Korean War, working as an OB-GYN on base. He went on to spend more than 40 years as a Birmingham obstetrician and gynecologist. He has been married for 61 years to his wife, Anita, and together they share three children – Ann, Julie and Harvey – in addition to eight grandchildren.
Now age 89, May realizes the importance of sharing his story with others. "For a long time, it was not foremost on my mind, but situations changed," he said. "As you get older, you realize that there are some Holocaust deniers around. It was brought to my attention that I should start talking about my experiences."
May, a strong proponent for education, emphasizes that "education can overcome a lot of adversity," which is a theme of success he has witnessed in his own life.
May's daughter, Ann Mollengarden, has worked at the Birmingham Holocaust Education Center since its inception in 2002 and currently serves as its vice president and education coordinator. She and her colleagues work to provide speakers for events, education for teachers, and various educational programs on the Holocaust. Ultimately, the center seeks to teach history and the ramifications of the events of the Holocaust by educating teachers, students, and the general public.
Mollengarden can recall when her father took her and her siblings back to his hometown in Germany to show them where he grew up. Later, May also took his grandchildren to Germany.
On the subject of the necessity of Holocaust stories in today's world, Mollengarden stated, "With fewer and fewer survivors left to tell their stories, we risk that this history will become like other histories, something only in a textbook to be studied from afar. These personal stories provide us with a first-hand account of the impact of human decision-making, from the individual level to the community level to the political level, and the impact of these choices on the future of mankind."
Every year, the Jacksonville State University Holocaust Remembrance Committee strives to retell the stories of the Holocaust to keep the voices from the past alive. This year, the committee consists of Kim Stevens, professor and senior catalog librarian; Joe Delap, vice provost and dean of graduate studies; Bethany Latham, associate professor and electronic resources/documents librarian; Russel Lemmons, professor of history; Esta Spector, community outreach; Steve Whitton, professor of English; and Brett Johnson, SGA president.
"One of the goals of the JSU Holocaust Remembrance Committee is to remember the Holocaust to ensure that future generations will learn its lessons so it never happens again," said Kim Stevens, chair of the committee. "Hearing personal stories is one of the best ways to remember. This is the first time that we will hear from a survivor and his daughter at the JSU Holocaust Remembrance, which should provide an interesting perspective."
May and Mollengarden will be speaking at the annual JSU Holocaust Remembrance event on April 14, 7:30 p.m., in the Stone Performing Arts Center. This event is free and open to the public. For more information, contact Kim Stevens at weather@jsu.edu.
Photo: Dr. Robert May (Birmingham Holocaust Education Center)