JSU's Pete Conroy Receives River Hero Award
03/11/2015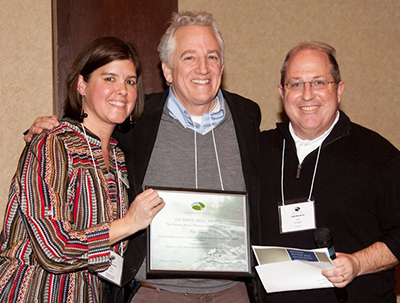 Pete Conroy, center, with Cindy Lowry, left, and Pat Byington at the Alabama Water Rally. (courtesy)
More than one hundred river advocates gathered inside from the snow at Guntersville State Park for the 17th Annual Alabama Water Rally on February 27. The event started with a dinner and concluded with an award ceremony to recognize groups and individuals who have worked to protect Alabama waters.
Among those honored was Pete Conroy, director of Jacksonville State University's Environmental Policy and Information Center, who received the River Hero Award. Conroy received the recognition for his decades of work highlighted by his White House role as a U.S. Federal Commissioner for the Tristate Water Compacts, appointed by President Bill Clinton and retained by President George W. Bush.
WildSouth Director and former Alabama Department of Environmental Management Commissioner Pat Byington nominated Conroy for the award.
"Pete has his fingerprints on too many projects and policies to count," stated Byington. "Just to name a few, he led efforts protecting Little River and the canyon through its designation as an Outstanding National Resource Water and its designation as a National Preserve, the Coosa River through his Congressional appointments targeting issues at Weiss Lake, the Perdido River for connecting to protection funds, and that's not to mention the protection of Dugger Mountain as a Wilderness, Mountain Longleaf National Wildlife Refuge, Coldwater Mountain, the Chief Ladiga Trail, the JSU Field Schools, Cleburne County Mountain Center, Little River Canyon Center and a bunch more. (Pete is) trusted by both sides of the political aisle and folks around the world; few people have been so effective in solving problems and getting things done," he said.
Conroy said it was a nice surprise and an honor to get the award.
"I'm pretty focused on what we're doing right now, so I rarely take time to reflect on how fun it's been to work with so many terrific partners," he said.  "The River Alliance event was a thrill, especially because I was able to reconnect with people I've worked with over time, some old friends I met nearly 30 years ago."
Currently, Conroy spends most of his time developing various projects and facilities targeting sustainability, education and economic development. His newest efforts include the development of Alabama's film industry, construction of Freedom Riders Park at the site of the 1961 Anniston bus burning and, as a result of the Alabama Rivers Alliance event, a renewed interest in water policy. 
Alabama Rivers Alliance Executive Director Cindy Lowry concluded, "I believe it's important to pass along successes that have been achieved along the way to protect Alabama's rivers. It was wonderful to honor someone like Pete who has been so essential to those successes."