JSU Creatives Bring Home Addys, EDMA, CAA Awards
03/03/2015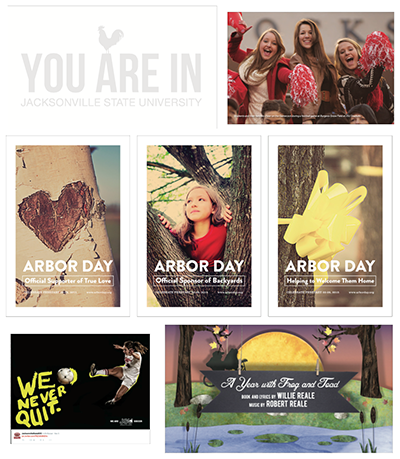 A composite of some of JSU's winning entries in the Addys. From top: JSU Admissions "You Are In" Welcome Packet; Arbor Day posters, JSU Soccer poster, JSU Drama Animation.
That's the verdict from the American Advertising Federation of Birmingham, which recently recognized artistic contributions by and on behalf of JSU during the annual Birmingham Addy Awards held on February 20 at Old Car Heaven in Birmingham. The American Advertising Awards, or the Addys, is the nationally-acclaimed awards competition for advertising creatives. Winners at the local and regional levels are eligible for national recognition. 
JSU staff and faculty who brought home silver Addys include Mary Smith (
'
93), coordinator of publications, and Morgan Christopher (
'
10), graphic designer, for their JSU Welcome Packet "You Are In" letterhead and envelope (brochures category); Shannon Crutchfield, lead interactive designer, JSU Drama Season Animation (animation and special effects category); and Jamie Runnells, art faculty, and Steve Latham, university photographer, for their "We Are JSU" soccer posters (campaign category).  
JSU was also represented in the student awards. Gadiel Flores brought home Addy gold for his Bongoose brand packaging (packaging category). Four students picked up silver Addys for posters they designed: Hunter Amberson, "All About That Space" (Advice to Freshman Art Students); Toby Satterfield, "Stepping Back Helps" (Advice to Freshman Art Students); Joshua Benefield, Arbor Day; and Blake Dodgen, "Breathtaking" Arbor Day poster. 
JSU alumnus Ford Wiles ('96), a partner at BIG Communications, was named
Creative Director of the Year. Among Wiles
' a
chievements during the past year were 
the
"
Go Build Alabama
"
 consumer regional/national campaign for the Alabama Construction Recruitment Institute, an integrated campaign for the musical group St. Paul and the Broken Bones, and the Vulcan Park and Museum campaign, "110 Years, Standing for Birmingham." 
BIG Communications also won a silver Addy for the Technology and Innovation video they produced for JSU
's 
Collaborative Regional Education (CORE) partners (Audio/Video Sales Presentation category). 
JSU's recent creative accomplishments don't stop with the Addys. JSU's Marketing Services Division also won two 2014/2015 Collegiate Advertising Awards, and JSU Interactive won four awards in Higher Ed Marketing
'
s Education Digital Marketing Awards.
In the EDMAs, Shannon Crutchfield won gold in the microsite category for JSU Residence Life
'
s digital housing brochure, silver in digital video for the JSU Admissions 
"
Accepted
"
 video, silver in admissions website or microsite for JSU
'
s digital Viewbook, and bronze in online publications for 
"
The Roost
" digital publications app.
In the CAAs, Mary Smith and Morgan Christopher won gold 
for the "You Are In" Welcome Packet in both the multiple page brochure and letterhead and envelopes categories. 
The Collegiate Advertising Awards (CAA) is an elite program recognizing higher education organizations for excellence in communications, marketing, advertising and promotions of their schools. More than 900 entries were submitted throughout the U.S. 
Congratulations to all our JSU Addy, EDMA and CAA winners!