Valentine's Week Activities at JSU
02/10/2015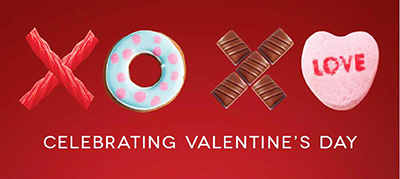 Whether you're celebrating your significant other or "single awareness day," there's a lot to love about being on campus during the second week in February! Here are some Valentine's Day events taking place at Jacksonville State University this week:
February 11
SGA Speed Dating and Valentine Sweetheart Social 
7:30-9:30 p.m.
Theron Montgomery Building Auditorium
Kick off the evening with a student social, where you can make your own Valentine's cards, snap selfies in a photobooth, and enjoy refreshments. At 8 p.m., make a new friend or perhaps even a love connection at Speed Dating. 
February 13
Singing Valentine fundraiser
9:30 a.m. - 4 p.m.
Mason Hall
Serenade your sweetheart with a Singing Valentine from members of the A Cappella Choir. For $2, a choir member will sing to your honey at designated spots in Mason Hall between classes. Proceeds will help fund the choir's trip to New York City in March to perform at Carnegie Hall. To reserve your Singing Valentine, contact Dr. Patricia Corbin at 256-782-5544 or pcorbin@jsu.edu by 9 a.m. on Feb. 13. 

Valentine's Dinner
4:30-7 p.m. 
Jack Hopper Dining Hall 
Join Sodexo for a meal sure to make your eyes light up! For a meal swipe plus $8, choose between steak or shrimp. Can't make up your mind? For a meal swipe plus $12, enjoy both! For more information, contact the Dining Services Department or email Katie Tyler.
February 14 
"Love Stories in the Stars" Planetarium Show
4 p.m. and 5 p.m.
JSU Planetarium, 3rd Floor of Martin Hall
Learn about history's star-crossed lovers at this month's Planetarium Show. Admission is $5 for adults and $2 for JSU students and children. For more information, call 256-782-8010.
JSU Jazz I & Trombone Ensemble with Guest Artist Wycliffe Gordon, Trombone 
7-8:30 p.m.
Mason Hall Performance Center
How are you treating your date on Valentine's Day - Roses? Chocolates? A gourmet dinner? Boring! If you want to win the prize for most creative, take your special someone to a performance of one of the world's best trombonists, Wycliffe Gordon.