SGA Kicks Off Spring Elections
02/03/2015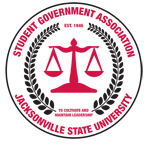 Make your mark at JSU! Applications are now available for students interested in running for SGA Executive Office, SGA Senate, Mr. or Miss Friendly, and Mr. or Miss Jax State. The deadline to apply is Feb. 16 and elections will take place March 12.
All students seeking to qualify for the elected positions of SGA President, Vice President of Student Senate, Vice President of Student Activities, and Vice President of Organizational Affairs must meet the following requirements:
Be in good academic standing and have no judicial holds with the university
Be of at least sophomore status (32 credit hours)
Hold a minimum 2.5 cumulative GPA, with the exception of SGA President who must hold a minimum 2.75 cumulative GPA.
The SGA Senate is comprised of 35 voting Senators. Undergraduate students with at least 12 semester hours at JSU and all graduate students are eligible. Candidates must have a cumulative GPA of at least 2.5 and must maintain this average throughout his/her Senate term. Undergraduate Senators must be enrolled in a minimum of 9 hours and graduate Senators a minimum of 6 hours throughout the Fall and Spring semesters of their term.
Students elected Mr. & Miss Jax State are said to best represent the spirit of JSU, while those elected Mr. & Miss. Friendly best embody the university's motto of "Friendliest Campus in the South." Candidates must have at least a 2.5 GPA, have completed at least 12 credit hours, be a full-time student, and active in at least two on-campus activities.
Applications for all offices and titles can be picked up in the Office of Student Life, located on the fourth floor of the Theron Montgomery Building. Applications are due by 4:30 p.m. on Feb. 16. For more information, call 256-782-5491 or visit the SGA website.
Spring Elections Timeline
Feb. 2: Applications available beginning at 8:00 a.m. in the Office of Student Life 

Feb. 16: Applications due by 4:30 p.m. in the Office of Student Life

Feb. 17: Mandatory candidate's meeting at 4 p.m.
Feb. 23: Candidate speeches at 5 p.m. in the TMB Auditorium

Mar. 9: Candidate debates at 5 p.m. in the TMB Auditorium
Mar. 12: SGA Spring General Elections open online from 12:01 a.m. to 5 p.m.

Mar. 17: Run-off Election (if needed) online from 12:01 a.m. to 5 p.m.