JSU Mourns Loss of Dr. Theron Montgomery, Ninth University President
02/10/2015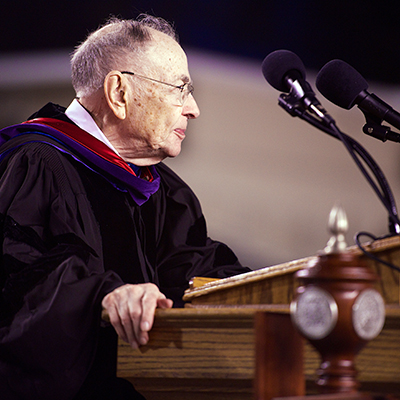 Dr. Theron Montgomery at JSU's Summer 2014 Commencement, above, and during his presidency, below. (JSU photos)
Dr. Theron E. Montgomery, the 9th president of Jacksonville State University, passed away today in Calhoun County. He was 90 years old.
A native of Spartanburg, South Carolina, Montgomery served in World War II before completing a bachelor's degree at Wofford College. He continued his education with a master's degree and Ph.D. from Duke University.
Montgomery played an instrumental role in JSU's development throughout his 36-year tenure. Arriving on campus in 1950 under the administration of President Houston Cole, he initially served as a sociology instructor. He was promoted in 1955 to dean of the university and, in 1971, as vice president for academic affairs. He assumed the presidency on July 1, 1981, and remained in the office until his retirement in 1986.
While Montgomery retired nearly 30 years ago, his impact continues to be felt on campus. During his administration, departments began seeking individual accreditation for their specific programs and the athletic teams excelled, including the All Sports award, which honored the outstanding program in the Gulf South Conference. The University also purchased the historic Roebuck home, which offers alumni a place to gather when they return to campus. The university's student commons facility – the Theron Montgomery Building – is named in his honor.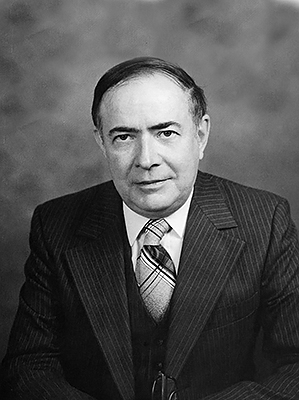 Mark Jones, Jacksonville City Council president and JSU's director of recreational sports, said it is fitting that the center of student activity on campus is named for a man so student focused.
"When Dr. Montgomery came to walk with me at Stephenson Gym, he knew my student worker better than I did," he recalled. "He never met a stranger, and he was especially interested in our students. He always asked who they were, where they were from, what courses they were taking. He was very concerned about their education, and if they got the support they needed…Wherever he was, whether it was in the post office or WalMart, he was an ambassador for JSU."
SGA President Brett Johnson said, "Unfortunately, most students at JSU now never got to meet Dr. Montgomery. But it's obvious to see his positive and lasting impact on student life and the quality of JSU's programs. He will be missed, but his legacy is lasting for the JSU family."
Dr. Montgomery was responsible for hiring JSU President Bill Meehan as a biology instructor in 1976 and the two remained close friends. Just last month, Dr. Meehan honored Dr. Montgomery with a 90th birthday party on campus.
"Dr. Montgomery was a leader at Jacksonville State University since he joined the faculty in 1950, serving as President from 1981-1986," Meehan said. "He celebrated the 100th anniversary of the university. He always considered the students first and in doing so helped Jacksonville State University retain its motto as The Friendliest Campus in the South. The Board of Trustees recognized this and named our student commons center the Theron E. Montgomery Building.  We will miss him very much.  Our thoughts and prayers are with his family."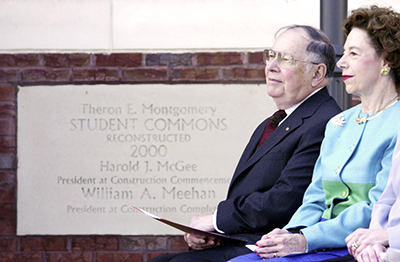 Dr. Montgomery was preceded in death by his wife of 63 years, Ada Bounds Montgomery, who passed away in September 2014. He is survived by two children, Dr. Theron E. "Tem" Montgomery III and Katherine Ann "Kam" Montgomery Richardson, son-in-law Thomas Richardson, and four grandchildren, Katie Montgomery Richardson, Thomas Boyd Richardson Jr., Theron Taylor Montgomery and Ethan Avery Montgomery.
A memorial service will be announced at a later date.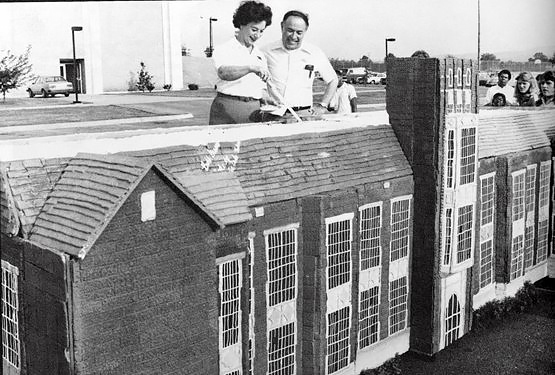 Above: Dr. Montgomery and first lady Ada Montgomery shared many important JSU moments including the naming of the student commons building in Dr. Montgomery's honor and the cutting of the cake celebrating Jacksonville State University's Centennial in 1983. (JSU/Mimosa Yearbook photos)