Jacksonville State University's Accreditation Reaffirmed Through 2024
02/06/2015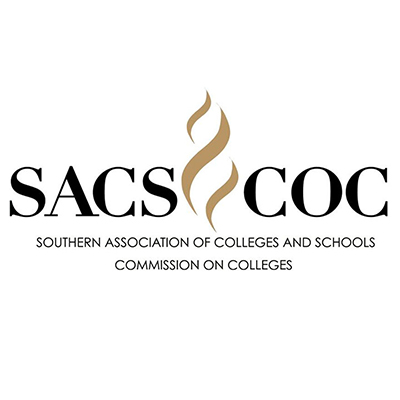 At the Dec. 7 meeting of the Board of Trustees for the Southern Association of Colleges and Schools Commission on Colleges (SACSCOC), JSU's regional accrediting body, the agency reaffirmed the university's accreditation for 10 years with no additional reports required.
"This is the first time ever that we had a complete clean slate, a review that did not involve further reporting," said Dr. Rebecca O. Turner, provost and vice president for academic and student affairs. "We got a 100 on the test and there is no more information needed, no further work to be done. It's a really good feeling to be here."
According to the Council for Higher Education Accreditation, accreditation is a means to assure and improve higher education quality, assisting institutions and programs using a set of standards developed by peers. An institution or program that has successfully completed an accreditation review has in place the needed instructional, student support and other services to assist students to achieve their educational goals. Accreditation has helped to provide the conditions necessary for the U.S. to develop diverse, flexible, robust and often admired higher education.
State universities like JSU are regionally accredited, and SACSCOC is one of eight regional accrediting bodies for colleges and universities in the U.S. The process of preparing for reaccreditation is intensive and involves the entire campus. JSU must undergo a reaffirmation review and site visit every 10 years.
Turner said in years past there have always been items to be addressed and a request for a one-year follow up report. This year's excellent report gives JSU a reprieve until 2019, when the university will be required to submit its Fifth-Year Interim Report to SACSCOC. At that time, JSU will also submit a final report on "Fast Forward: Using 21st Century Tools to Promote Critical Thinking," the university's quality enhancement plan (QEP), which should be winding down at about that time. A QEP is a new SACSCOC requirement. Described in the 2011 SACSCOC "Handbook for Institutions Seeking Reaffirmation," a QEP is "a carefully designed course of action that addresses a well-defined and focused topic or issue related to enhancing student learning and/or the environment supporting student learning and accomplishing the mission of the institution."
"Fast Forward" at JSU focuses on improving student-learning outcomes that will provide graduates with 21st century critical thinking skills. Goals include increasing students' critical thinking skills and confidence using technology to analyze and solve problems, increasing instructor confidence in the use of technology, and promoting new teaching methodologies through professional development and faculty mentoring.  
"We are very proud of our quality enhancement plan," said Dr. Turner. "Helping our students learn better and be better thinkers and problem solvers will make them better employees down the road and certainly will make them better students now."
Turner credits many individuals across campus for their assistance in writing and submitting JSU's complex SACSCOC compliance report, particularly Louise Clark, associate dean of the College of Commerce and Business Administration; Alicia Simmons, vice president of planning and research; Joe Delap, vice provost and dean of Graduate Studies; and Lisa Williams, associate dean of the College of Arts and Sciences. Kim Presson in the Office of Planning and Research made sure that the technical reports were accessible and available for review by the teams that reviewed JSU.
In a memo to his staff, JSU President William A. Meehan said, "This is another significant milestone in the progress that all of you have been able to make in improving Jacksonville State University and the value that we offer our students and community.  Thank you so much for all of your hard work in making this reaffirmation possible."
The university's next reaffirmation will take place in 2024.