Multiple Grammy Nominee to Start off the Foothills Piano Festival
01/05/2015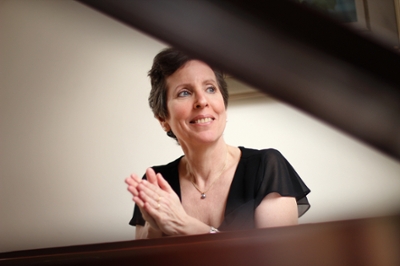 Allison Brewster Franzetti, a multiple Grammy Nominee will present a stunning recital as part of the annual Foothills Piano Festival on Thursday, January 8, 2015, at 7:30 p.m. Works will include Claude Debussy's "Images" and a performance with JSU faculty flutist Dr. Jeremy Benson. The concert is free and open to the public. 

Dr. Franzetti has received international acclaim from critics and audiences alike for her stunning virtuosity and musicality, both as a soloist and chamber musician. Her performances include the Grammy Awards Classical Music Tribute to Earl Wild and Lang Lang at the Walt Disney Concert Hall in Los Angeles, the American Classical Music Hall of Fame, the Robert Schumann Festival at the Marcella Sembrich Museum in Lake George, New York, the Campeche Festival in Mexico and at the opening of the VI International Festival of Music at the Teatro Colon in Buenos Aires, Argentina.
She has also been a guest artist with the Brooklyn Philharmonic, the Long Island Philharmonic, the English Sinfonia, the City of Prague Philharmonic, the Denver Symphony, the Colonial Symphony playing her own arrangement for solo piano and orchestra of Camille St. Saens' "Carnival of the Animals," the European Women's Orchestra, and the Adelphi Orchestra, amongst others. She has played the world premiere of "Piano Concerto No. 2" by Carlos Franzetti at the Teatro Colon with the Orquesta Filarmonica de Buenos Aires conducted by Javier LoGioia Urbe, commissioned for Ms. Brewster Franzetti as part of their 50 anniversary season, the European premiere with the Janacek Philharmonic conducted by Dennis Burkh, and the United States premiere with the Queens Symphony Orchestra conducted by Constantine Kitsopoulos. Her solo recital performances include her critically acclaimed debuts at Merkin Hall in New York and the Teatro Colon in Buenos Aires, her recital debut at the prestigious Wigmore Hall in London, and tours throughout the United States, Mexico, Europe, Argentina and Japan. Her work, which has been featured on several international film soundtracks and has been captured on multiple albums, received international success with multiple Grammy nominations.

Born in New York City, Allison Brewster Franzetti received a Bachelor of Music degree from the Manhattan School of Music, a Master of Music degree from the Juilliard School, and a Doctorate in Musical Arts from Mason Gross School of the Arts at Rutgers University. She joined the faculty of Montclair State University in 2007 and was appointed Part-Time Lecturer at the Mason Gross School of the Arts, Rutgers University in 2010. Ms. Brewster Franzetti is currently Artistic Director of the Young Artist Program and Coordinator of Adult Chamber Music at Rutgers University.