From Counseling to Cooking: A JSU Graduate's Journey to Owning His Own Business
01/12/2015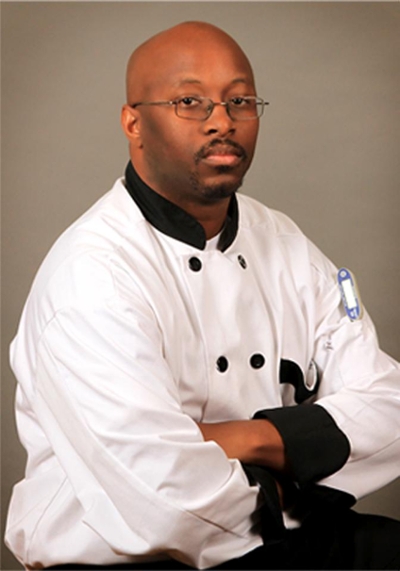 From suffering personal tragedy during his freshman year to washing dishes for campus dining and realizing a love for the culinary arts, the ups and downs of Tradale Jefferson's time at Jacksonville State University molded him into the person he is today – a true Jack-of-all-trades.
A native of Birmingham, he originally pursued a degree in biology pre-med. However, during freshman year, his father committed suicide, leaving him deeply grieved. "It was very unexpected," he said. "I did not perceive that happening at any time."
After seeking assistance from JSU Counseling Services, he felt led to help others dealing with similar circumstances. He changed his major to social work and became an assistant to Linda Shelton, JSU's lead counselor. Together they established a student chapter of the National Alliance on Mental Illnesses, now known as Active Minds.
Shelton, who has known Jefferson since he was a freshman, describes him as "down-to-earth" and said she always felt she could talk to him. "He was not so heaven bound that he couldn't be earthly good," she said.
As a student, Jefferson founded the JSU Pep Squad, which devotedly attended every JSU football game wearing matching fan T-shirts. He was also actively involved in campus ministries, participating in Faith Outreach Campus Ministries and developing an active Bible study group, All About Jesus.
In addition to helping him cope with the loss of his father, JSU also introduced Jefferson to the hobby that became his career – cooking. The Bible says, "Never despise meager beginnings." Jefferson, who is now a talented chef, began his career in food service by working in the dish room for Sodexo at JSU. The kitchen manager soon recognized his potential and placed him on the grill. After a semester of working on the grill, he was promoted to night cook and eventually full-time student manager.
But Jefferson discovered that cooking served as more than a means of working his way through college. It was also a great stress reliever, especially during finals when he would cook everything in his refrigerator and invite all of his friends over to his apartment for a pre-finals dinner. "I would then go to sleep, take my test the next day, and be great," he said.
After graduating from JSU in 2009, Jefferson first served as a restaurant manager and then a social worker, but transitioned out of that line of work in March 2012, when he decided to pursue his love of cooking full-time. He is now the owner of 180 Grill Catering based in Hoover. 
From "small parties here and there," Jefferson's business has grown into catering everything from weddings, bridal showers and birthday parties to corporate events. He recently received a contract to make lunch for a private school during the week.
"I've always liked to cook, but being at JSU helped me learn technicalities and legal things, gold standards that are out there," Jefferson said. "It also helped me prepare in bulk, or large mass quantities." 
Jefferson is about to begin an exciting new chapter of his life, as he recently became engaged to LeighAnn Canzano. Who will cater the chef's wedding? He will, of course.
He is even qualified to serve as parson. Having received the call to preach at the age of 15, he is a licensed and ordained minister. He currently attends City Church in Rainbow City and serves as an "armor bearer" for his pastor.
When asked how JSU prepared him for where he is today, Jefferson said, "Connections! To this day, I still have major connections with people on campus and around the country who have graduated and gone on to do great things."
For more information on Jefferson, visit www.180grillcatering.com.
Photo: Tradale Jefferson (Darryl Matthews, In Touch Atlanta Photography)