JSU Robotics Team Captures National Title
12/05/2014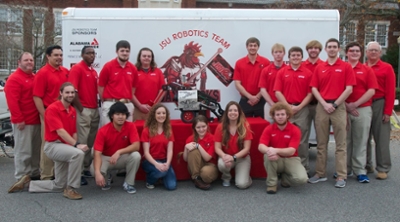 Over Thanksgiving break, the JSU Robotics Team traveled to St. Louis, Missouri, where it placed first in the 14th annual Association of Technology, Management, and Applied Engineering (ATMAE) Student Robotics Competition. It's the second time the team has won since it was established four years ago.
The 17-member team had to design a robot able to compete in four Olympic events without manual adjustments – including kicking a mini football over a six-foot goalpost. Judges combined scores from competition with points for overall design, a poster session, and audience voting to determine the overall winner.
The team is advised by Terry Marbut, head of the Department of Technology and Engineering, and instructor Phillip Dean. Members include:
Blake Ray, President        
Jojo Barnes, Vice President                   
Justin Caswell, Treasurer     
Tina Civitello, Secretary                           
Drew Coffman                                              
John Hill                                                                   
Kacy Holsonback                                                                            
Damarcus Lawson                                                
Josie Mangum                                                                                
Steven Martinez                              
Sinh Nguyen                                                                                                   
John Norton                                                 
Joy Packard                                                        
Chris Pender                                                                                     
Aaron Rissler                                                 
Dexter Vernon                                                
Ryan Wise        
As a prize, the team received $100. Select members will receive a week of extensive industrial robotics training at Rixan Associates, which sponsored the competition. Membership to the JSU Robotics Team is open to students of all majors. For more information, contact Terry Marbut at 256-782-5034.
Photo: JSU Robotics Team (Angie Finley/JSU)