Mission Accomplished: Sgt. Ben Tomlinson Gets Keys to New Home for Veterans Day
11/11/2014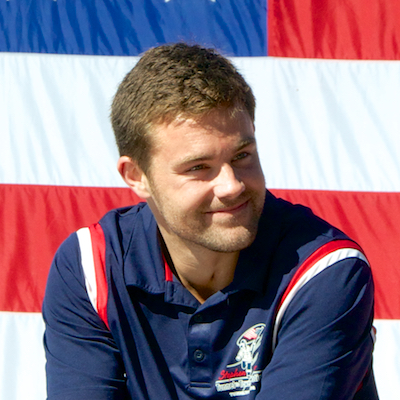 Sgt. Ben Tomlinson at his new home dedication. (Angie Finley/JSU)
By Heather Greene
JSU student and American hero Sgt. Ben Tomlinson was the focus of Jacksonville's 2014 Veterans Day celebration at an event that was years in the making.
While serving with the U.S. Marine Corps in Afghanistan in May 2010, Tomlinson was shot in the neck by a sniper, resulting in paralysis from the chest down. Upon his return to Jacksonville following his stay at Walter Reed National Military Medical Center, Tomlinson was welcomed home by hundreds of local residents.
In May 2013, the Tunnel to Towers Foundation – named in honor of FDNY 9/11 fallen Firefighter Stephen Siller – partnered with the Gary Sinise Foundation to host a concert at JSU's Burgess-Snow Field to raise funds to build a smart home for Tomlinson. Actor Gary Sinise's Lt. Dan Band performed to an enthusiastic hometown crowd at JSU Stadium and an outpouring of support flowed in from the community. Funds were raised through ticket sales and donations.
Construction began on Tomlinson's new home in February 2014, and the house was revealed to the wounded warrior on November 10, the day before Veterans Day and the 239th anniversary of the U.S. Marine Corps. At the unveiling, the national anthem played as paratroopers flew down to deliver Tomlinson's house "key" – an iPad that controls every aspect of the smart home, even opening the front door.
Frank Siller, chairman and CEO of the Tunnels to Towers Foundation, shared the story of his brother Stephen at the event and presented Tomlinson with a piece of the World Trade Center's South Tower, the same tower that collapsed on Stephen as we worked to save lives on 9/11. The Tunnels to Towers Foundation was established to give back to America's bravest like Siller and Tomlinson.
"Is this not a miracle? Is this not what God has intended for us to do as human beings?" asked Siller.
Though Sinise was unable to attend the event, he sent a letter through Billy Wagasy, director of programs and outreach for the Gary Sinise Foundation and former Navy S.E.A.L. Sinise felt led to give back to wounded warriors following his role as Lt. Dan, a disabled Vietnam veteran, in the film "Forest Gump." He founded the Lt. Dan Band and plays shows to support his philanthropic efforts. Sinise said Tomlinson's house is a "small symbol of our collective gratitude" for his service.
"We cannot give these brave wounded service members back their arms and legs," Sinise said. "We cannot give them back their eyes, their ears, and pieces of themselves that have been lost, or their minds that have been altered. We can give them, and must give them our respect and everlasting thanks and support. The first step is to recognize the enormity of the need. It is so huge that it only can be solved by everyone doing what they can, whenever they can."
JSU President Bill Meehan was also at the unveiling and presented Tomlinson with the official presidential pin.
Tomlinson said he has been spoiled and feels incredibly blessed over the outpouring of love he has encountered from his community and across the nation.
"I don't feel I'm owed any debt like this," Tomlinson said. "Every time I hear someone call me a hero people, I think 'No, the people who are doing good things for people in my situation are the heroes.' I've been surrounded by them." 
View the Dedication Ceremony Online