Alexandria High School Choir to Join JSU A Cappella Choir in November 16 Concert
11/07/2014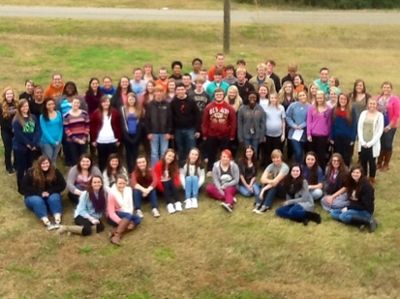 A Cappella Choir Winter Concert with guest choir from Alexandria High School
On Sunday, November 16, 2014, at 3:00 p.m., the Jacksonville State University A Cappella Choir will present its Winter Concert at the Church of St. Michael and All Angels in Anniston. The Alexandria High School Choir under the direction of Ms. Cathy Spence will also be featured on the program. The choirs will end the concert with a joint tribute to veterans.
A Cappella Choir is one of five choral ensembles sponsored by the JSU David L. Walters Department of Music and is under the direction of Patricia Corbin, JSU Director of Choral Activities and is accompanied by Jean Corlett, Minister of Music at the Church of the Good Shepherd in Golden Springs. The concert will include music by William Dawson, Alan Koepke, Ralph Johnson, and selections by Giovanni Gabrieli and Daniel Pinkham that will be accompanied by a brass ensemble.
A Canned Food Drive will be held at the concert to benefit the St. Michael's Food Ministry. Audience members are asked to bring donations of non-perishable food items that will be distributed to needy community members at a later date.
The Church of St. Michael and All Angels is located at 1000 West 18th Street in Anniston. For further information, please contact the JSU Office of Choral Activities, (256) 782-5544.